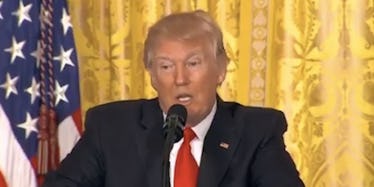 Trump Finally Admits Ivanka Is Mastermind Behind Melania's Moves As First Lady
Twitter
During a press conference that left much of the country, and especially the media, at a complete loss for words, President Donald Trump essentially admitted what we already knew: Ivanka Trump is the real first lady.
The president said,
She's gonna be a fantastic first lady. She's going to be a tremendous representative of women and of the people. Helping her and working her will be Ivanka, who is a fabulous person and a fabulous, fabulous woman.
What did he mean by she's "gonna be a fantastic first lady"?
Hasn't she been first lady for a month now?
And did he just publicly suggest Ivanka is either coaching Melania on how to be first lady or simply filling in for her when she's not in Washington? Perhaps both?
It could definitely be interpreted that way.
Other than that, Trump's point about Ivanka confirms what's been clear for quite some time: She's playing a much bigger role in Trump's administration than Melania.
Melania is not currently living in Washington and only made her first official White House appearance on Wednesday -- roughly four weeks after the inauguration.
Meanwhile, while Ivanka doesn't have an official White House title, she's been a very active member of the Trump administration -- even well before the inauguration.
She's frequently met with foreign leaders alongside her father and has an unprecedented amount of influence as a first daughter.
Ivanka even recently accompanied the president as he traveled to Delaware's Dover Air Force Base to honor a US Navy SEAL killed in a controversial raid in Yemen.
As Katherine Jellison, the head of the history department at Ohio University, told The Washington Post,
That's a typical scene you usually see played out with the president and the first lady, not the first daughter.
Why is all of this problematic?
Beyond concerns surrounding nepotism, it doesn't help Ivanka repeatedly tries to diminish the notion she's essentially filling in for Melania as first lady.
She's moved to Washington, is constantly at the White House and has even reportedly influenced President Trump's policy decisions.
It's understandable if Ivanka doesn't want to overshadow Melania.
At the same time, however, Melania is still living in New York City and reportedly didn't even want to be first lady.
Long story short, Ivanka should own the role she's so obviously inhabiting.
Otherwise, it feels to me like she's treating the American people like idiots.