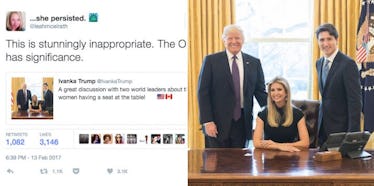 Ivanka Trump's Instagram From Behind Oval Office Is Pissing A Lot Of People Off
Twitter / Instagram
Ivanka Trump once again caused a lot of uproar when she posted a photo to Instagram.
This time, it was a photo she posted from the Oval Office of the White House.
In the picture, she is sitting at the desk of the Oval Office. President Donald Trump, her father and Canadian Prime Minister Justin Trudeau stand around her.
Ivanka captioned the post,
A great discussion with two world leaders about the importance of women having a seat at the table!
The First Daughter was at a meeting with the two leaders and a group of women business leaders. They discussed promoting women in the economy and announced the creation of a United States Canada Council for the Advancement of Women Business Leaders-Female Entrepreneurs, which is a bit of a mouthful, honestly.
People had mixed reaction to the picture of Ivanka Trump in the Oval Office at the White House.
Some thought it was a completely inappropriate move.
Some people on Twitter believed the Trumps were disrespecting the history of the Oval Office by having Ivanka pose for a cutesy pic there.
Although, it's clear by now Ivanka is spending a lot of time in the White House and at meetings for someone who isn't technically involved in the administration.
Others shook their heads at the double standards.
Many imagined the outrage there would have been had Malia or Michelle Obama posed for a similar picture.
There were lots of discussions about the privilege present in the post.
Ivanka is a conventionally attractive white woman born into a family of means. She didn't exactly work hard to get a seat at that table -- and women like her don't really need the kind of institutional support the discussion covered, hopefully.
And, of course, some people were delighted to see Ivanka at the White House desk.
Relativity is key.
Citations: Ivanka Trump helps host WH women's business initiative with Trudeau (CNN)