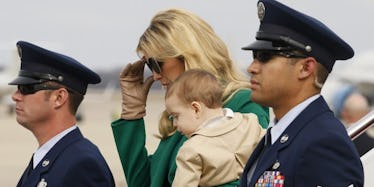 Ivanka Trump's Pic Of Son In White House Shows Who's Really Running The Country
REUTERS
Ivanka Trump appears to be enjoying her move to Washington, DC to be near her father, President Donald Trump.
The first daughter moved to the nation's capital with her husband, Jared Kushner, as her father took office.
This must come as a comfort to the president, as he is alone in the White House.
First Lady Melania and her young son, Barron, are still living in New York City.
They are expected to move to DC once Barron finishes the school year... so Ivanka is filling in the gap.
On February 7, Ivanka posted a photo on Instagram with her toddler son, Theodore, at the White House.
The caption read,
Taking a call in the White House with my personal assistant Theodore.
The picture shows Ivanka holding Theodore as she sits down and uses a cell phone.
Theodore's looking cute as hell, but a lot of other people had other things on their mind when Ivanka posted the picture.
When Ivanka posted the picture on Twitter, she got a healthy serving of angry reactions.
This was similar backlash to when Ivanka posted a photo with her husband in evening wear... the same night people were protesting her father's discriminatory, damaging immigration and refugee ban.
Ilana Glazer, of "Broad City," was among those striking at Ivanka for the photo.
Other people were angry Ivanka posted cute pics of her kid while the White House was threatening parts of their rights and livelihood.
Of course, there were also positive responses to Ivanka's post.
Many of those focused on the good family example she's setting for America.
As one Twitter user pointed out, that is a little ridiculous, given we've had good family examples in the White House for at least the past decade and a half... and Donald Trump is on his third marriage.
It is ridiculous to bring the young Trump children into the line of criticism, as they have no ability to do anything else.
But Ivanka is an autonomous adult. She should probably get used to getting a different kind of response on her fancy pictures than she previously did.
Citations: Ivanka Trump (Instagram)