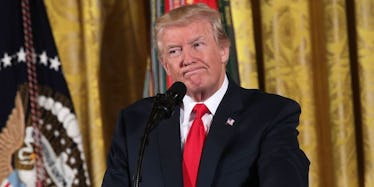 You'll Never Guess What Most People Think About The Trump Administration
Alex Wong/Getty Images
These days, it often feels like we can't go more than an hour or two without another bombshell report about the Trump administration. The news is occurring at what feels like an unprecedented rate and people across the country are clearly a bit overwhelmed by it all. Consequently, most Americans have a negative view of the Trump administration. A new POLITICO/Morning Consult poll shows a majority of voters feel the Trump administration is running chaotically.
A full 60 percent of those polled said the Trump White House was running somewhat or very chaotically. Comparatively, just 33 percent say it's running well. But, according to the poll, opinions on this are very split across partisan lines: 63 percent of Republicans say the Trump administration is running well, while 80 percent of Democrats say it is consumed by chaos.
Scaramucci had only been hired 10 days before, and technically hadn't even officially started the job.
And the drama surrounding the Trump administration has hardly been limited to Scaramucci.
Just three days before Scaramucci's ousting, on July 28, White House Chief of Staff Reince Priebus was dismissed and replaced by retired Marine General John Kelly. On July 21, a week before Priebus was fired, White House Press Secretary Sean Spicer resigned.
So, in less than two weeks, the Trump administration has seen people in three crucial positions either resign or be fired. With that said, you can hardly blame Americans for feeling like the White House is in shambles.
Six months into his presidency, Trump has no major legislative accomplishments, his administration has seen a number of shake-ups, and he remains extremely unpopular.
According to Gallup, as of July 30, Trump's approval rating is at 37 percent. Meanwhile, Trump's habitual use of Twitter continues, in spite of the fact a majority of Americans would like to see him stop tweeting.
Despite a plethora of evidence to suggest Americans are unhappy with the job he's doing, Trump seems determined to do whatever he wants, regardless of the consequences.