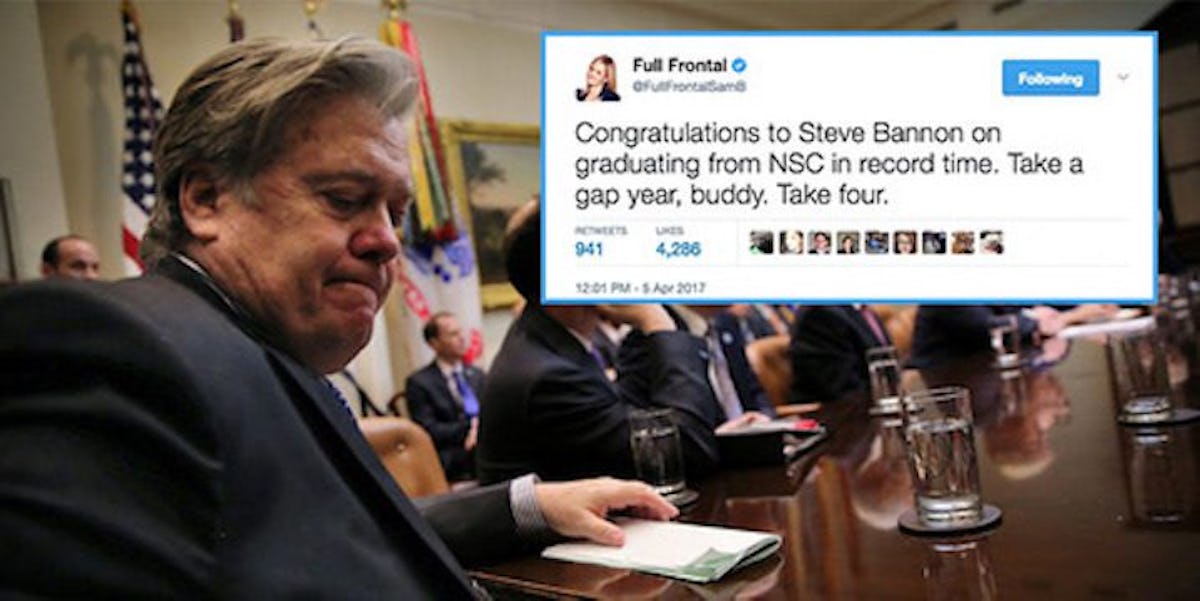 Trump Just Told Steve Bannon He's Fired, And Twitter's Throwing A Party
REUTERS/Twitter
On Wednesday, President Donald Trump removed White House chief strategist Steve Bannon from the National Security Council, Bloomberg reports.
In January, Trump reorganized the structure of the National Security Council to make Bannon a permanent member.
This was a very controversial move, given that Bannon has no foreign policy experience and many consider him to be a white nationalist.
Now, National Security Adviser HR McMaster will set the agenda for the National Security Council.
This does not mean Bannon no longer has a role in the Trump administration. He's still chief strategist.
But still, this could definitely be interpreted as a major demotion.
Bannon, the former head of the alt-right media outlet Breitbart News, has been an unpopular figure in the Trump administration from the start.
Darkness is good.
He's made a number of unsettling statements, including telling the media to "keep its mouth shut" and "just listen."
After the news broke he'd essentially been fired from this key role, many took to Twitter to celebrate.
Some, however, feel Bannon should be removed from government all together.
Regardless of how you interpret this, it's yet another shakeup within the Trump administration in the span of just a few short months.
It wasn't that long ago Michael Flynn resigned as national security adviser after he misled Vice President Mike Pence and other White House officials about his contacts with Russia's ambassador.
There has also been controversy in recent weeks over the roles and influence of Ivanka Trump and her husband, Jared Kushner.
Last week, Ivanka Trump announced she was officially becoming an unpaid government employee after ongoing criticism about her influence in the White House and concerns over the ethics of that.
Meanwhile, Jared Kushner, who is senior adviser to President Trump, has been placed under scrutiny for being given such a central role in the administration with no government experience.
Many expressed concern over Kushner representing the president during meetings in Iraq earlier this week, in spite of the fact that Secretary of State Rex Tillerson hasn't even been there yet.
Kushner's influence over foreign policy will likely continue to be a lightning rod for criticism in the future, much like Bannon's role in the National Security Council.
Given that Bannon makes a lot of people very uncomfortable, the fact that he remains in the White House at all will also be an ongoing point of contention between the White House, the media, certain members of the government and much of the public.
Citations: Bannon Loses National Security Council Role in Trump Shakeup (Bloomberg Politics)