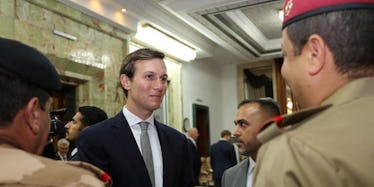 Jared Kushner's Last-Minute Iraq Trip Has Everyone Pissed For A Valid Reason
REUTERS
President Donald Trump's son-in-law, White House senior adviser Jared Kushner, landed in Iraq on Monday after being invited there by Gen. Joseph F. Dunford Jr., the chairman of the Joint Chiefs of Staff.
He's there to "receive an update" on where the counter-ISIS campaign in Iraq and Syria currently stands, according to The New York Times.
Kushner's last-minute trip has generated a mixture of alarm, confusion and anger, and the reaction is understandable.
His presence in Iraq is strange for a number of reasons.
Kushner, 36, has already been given what many view as an unreasonable amount of power and influence in the Trump administration.
There are many who feel his role reeks of nepotism given he's the husband of Trump's daughter, Ivanka Trump.
Ivanka has also been criticized for the amount of sway she has in the White House.
Not to mention, it's not entirely clear what Kushner's job really is.
Kushner also has no government or foreign policy experience.
With that said, it's a little confusing as to why he would be sent to Iraq to represent the president and be briefed on a complex issue that pertains to global affairs.
The US military has been continuously active in Iraq since 2003, which is a testament to both the mismanagement and complicated nature of America's involvement there.
Given the convoluted nature of America's role in Iraq (and now Syria), you would think the Trump administration would only send its most experienced and high-ranking military, intelligence and diplomatic officials to deal with such matters -- not Kushner.
Secretary of State Rex Tillerson, America's top diplomat, has yet to go to Iraq.
For all of these reasons and more, White House Press Secretary Sean Spicer was grilled by reporters about Kushner's trip on Monday afternoon.
On top of all of the concerns surrounding why Kushner was sent in the first place, it was also reported the White House violated protocol by announcing his Iraq trip before he even landed.
It's clear Kushner's role in the White House will continue to be scrutinized heavily, especially when it comes to foreign policy.
Citations: Jared Kushner Visits Iraq on Invitation From Joint Chiefs Chairman (The New York Times)