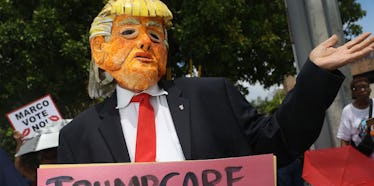 Obama's Photographer Amazingly Trolled Trump Over His Mika Brzezinski Tweet
Joe Raedle/Getty Images
Pete Souza, who was former President Barack Obama's photographer, has made a frequent habit of subtly trolling President Donald Trump with old photos of Obama.
Souza took #TBT to a whole new level on Thursday in what seemed to be a clear response to Trump's sexist tweet attacking MSNBC host Mika Brzezinski's appearance.
He shared a photo of Obama speaking with women in the Oval Office, with the caption, "Respect for women."
On Thursday morning, Trump attacked Brzezinski on Twitter.
Trump suggested Brzezinski was stupid, "crazy" and suggested she'd had a face-lift.
In short, the president of the United States made a blatantly sexist remark about a woman's appearance and has shown no remorse whatsoever about it.
Trump's tweet about Brzezinski was widely condemned, even by other Republicans.
Many also pointed out first lady Melania Trump once said she wanted to prioritize combatting cyberbullying, but apparently doesn't have a problem with her husband's online behavior.
Brzezinski had a pretty savage response to Trump's tweet, and hit him where it really hurts (his fragile masculinity).
This is hardly the first time we've seen Trump exhibit sexism or disrespect for women.
Earlier this week, Trump interrupted a phone call with a foreign leader to comment on a female reporter's appearance.
The reporter, Caitríona Perry, described the incident as "bizarre."
Trump has a long history of behaving this way.
He once said, for example, "A person who is very flat-chested is very hard to be a 10."
This is a man who's spent a lifetime making disparaging remarks about women, including that time he was caught on tape bragging about what amounts to sexual assault.
So, while there's certainly no excuse for what he said about Brzezinski, you can't exactly say it was an off-brand moment for Trump.
With that said, it's also safe to say this is not the type of behavior you'd expect from the president of the United States, which is why you can hardly blame people for being outraged.