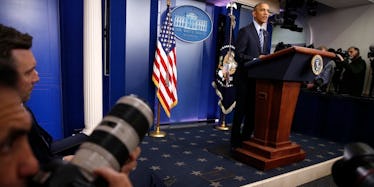 White House Photog Low-Key Trolls Trump With Hidden Messages In Obama Pics
REUTERS
Pete Souza, who was President Obama's official photographer, has been trolling President Trump nonstop by posting old photos of Obama on Instagram.
Many of these photos offer powerful critiques of Trump's statements and policies. They also highlight the drastic differences in the demeanor and character of the new president and his predecessor.
Souza didn't mention Trump directly in any of these photos, but has been timing his posts perfectly in terms of their relevance.
In the wake of Trump's controversial executive order that barred refugees and people from seven predominately Muslim countries from entering the US, for example, Souza began posting images of Obama that revealed his vastly different approach to the global refugee crisis.
But his posts have touched on a wide array of issues, and the polar opposite presidential styles of Obama and Trump.
These photos were definitely meant to remind people Obama saw America as a country that should welcome refugees, regardless of their religion.
This photo of Obama and Enrique Peña Nieto taking shots of tequila came as Trump sparred with the Mexican president about who will pay for his controversial border wall.
Mexico is not paying for the wall.
After Trump reportedly had a rough phone call with Malcolm Turnbull, the prime minister of Australia, Souza posted an image of Obama laughing with Turnbull and the prime minister of New Zealand.
Obama and Merkel are very close.
Souza even recently trolled Trump about his lack of female advisers (his cabinet is primarily white and male).
Comparatively, Obama had the most demographically diverse administration in US history.
Many of Souza's posts seem to touch on how important the concept of diversity was to Obama in both his words and deeds.
After the Super Bowl, Souza posted a photo of former President George HW Bush hanging with Obama at the White House.
Bush didn't attend Trump's inauguration, but he did go to the Super Bowl. Priorities.
Long story short, Souza has clearly mastered the art of subtlety trolling someone, and he's taken #TBT to a whole new level.
You can follow him at @petesouza on Instagram.
Citations: Pete Souza (Instagram)