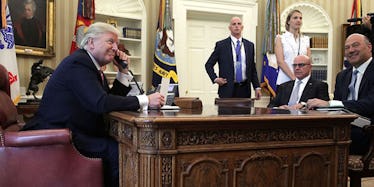 Trump Catcalled A Reporter Mid-Call With World Leader, And Twitter Is Horrified
Alex Wong/Getty Images
Things got awkward between President Donald Trump and a female reporter at the White House on Tuesday.
While on a diplomatic phone call with Irish leader Leo Varadkar, President Trump told the prime minister about "all of this beautiful Irish press" in the oval office, according to the Washington Post.
He then called over Caitríona Perry, the White House Correspondent and U.S. bureau chief for Irish outlet RTÉ, and asked for her name before telling Varadkar,
She has a nice smile on her face, so I bet she treats you well.
Perry later shared a video of her exchange with the president online, calling it a "bizarre moment."
The call between Trump and Varadkar was held to congratulate the Irish leader for recently becoming Taoiseach, the title given to the Irish prime minister.
But what was supposed to be a routine bit of diplomacy soon became notable for the exchange between Trump and Perry. Safe to say, the moment struck a number of people as sexist.
Meanwhile, others accused the president of behaving creepily.
Later on Tuesday, Perry spoke to RTÉ about the moment at the White House, describing it as an encounter that happened fast on a day she didn't even expect to be granted coverage of the call.
Perry said,
One minute we were outside the window and the next minute I'm meeting the President of the United States ... When we went in he was already on the phone but I managed to catch his eye and he called me over.
It's not exactly rocket science why the exchange rubbed people the wrong way. Perry is woman who was doing her job and ended up getting singled out by the boss of the room commenting on her looks.
That is the type of scenario that has the potential to make a lot employees uncomfortable in any office, let alone the Oval Office.
Throw in the fact that Trump's history of commenting about women is not exactly the cleanest, and it becomes clear that the moment with Perry at the White House on Tuesday was altogether a bad look.