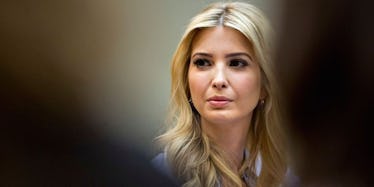 You Might Be Buying Ivanka Trump's Clothing Brand Without Knowing It
Getty
Ivanka Trump's clothing brand has been having some problems, to say the least.
It all started back in October, when a group of women decided to boycott Ivanka's brand. They did it in response to the infamous "Access Hollywood" video of Donald Trump.
After the election, people turned from boycotting to trolling reviews of the Ivanka brand.
Then, in early February, Nordstrom announced that they would no longer be selling Trump's clothing. This made the president very angry. Kellyanne Conway's defense of Ivanka got her in ethical trouble.
Ivanka herself, meanwhile, is facing criticism for potential conflicts of interest as she becomes more deeply embedded in the administration.
There have been some bright spots. Despite -- or, perhaps, because of -- the Nordstrom drop, Ivanka's brand apparently had record sales in February.
But this week, some shady news came out about the Ivanka clothing brand.
Some of the Ivanka clothing was secretly relabelled as Adrienne Vittadini Studio, according to Business of Fashion.
This was done by G-111, a company that has a license agreement to manufacture and distribute Ivanka clothing.
Basically, they would take an Ivanka shirt and literally replace the label saying "Ivanka" with one saying "Adrienne Vittadini Studio."
The relabelled Ivanka clothing was sold at Stein Mart, a discount department store.
So, yeah, yikes.
G-III says this relabelling was not Ivanka's fault.
They said in a statement that this happened "without the knowledge or consent of the Ivanka Trump organization." (Ivanka herself stepped down from daily operations for her father's presidency.)
"G-III has already begun to take corrective actions, including facilitating the immediate removal of any mistakenly labelled merchandise from its customer," G-III said, according to BoF. "The Ivanka Trump brand continues to grow and remains very strong."
Apparently this relabelling happens frequently when a brand is being sold at a discount retailer, which is kind of exciting news to me.
There are two theories for why G-III relabelled Ivanka's brand this time.
It could be that they were avoiding backlash to the Ivanka brand. Stein Mart had been getting complaints about her clothes, a source told BoF, which included a customer spitting on a blouse and walking out of the store.
However, Stein Mart chief executive D. Hunt Hawkins told BoF that they've gotten "an equal number of [customers] say that they don't want and do want [the Ivanka Trump merchandise] in the store."
"If we get it, we get," Hawkins said.
But it could also be that G-III didn't want to taint the "Ivanka" name by displaying it in a discount store.
We can argue all we want about this issue, but ultimately a sale's a sale and someone is making that cash.
Citations: Amidst Backlash, Ivanka Trump Clothing Is Secretly Relabelled as Adrienne Vittadini (Business of Fashion)