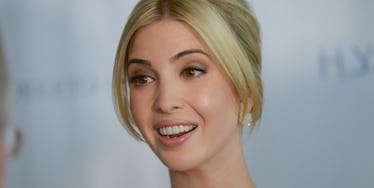 People Boycotting Ivanka Trump May Actually Be Helping Her Reach Record Sales
REX/Shutterstock
Ivanka Trump's fashion line experienced record sales in February, despite a boycott and the fact Nordstrom stopped selling her brand.
It seems the boycott may have backfired. In fact, publicity surrounding her line appears to have boosted sales.
The boycott, known as #GrabYourWallet, was a response to Ivanka's silence over the tape in which her father was caught bragging about sexual assault.
Kellyanne Conway, counselor to President Donald Trump, recently urged people to buy Ivanka's products in response to the boycott, and broke the law in the process.
But it looks like people might have listened — sales have skyrocketed.
Abigail Klem, the brand's president, said the line just had its best month ever in February.
Speaking with Refinery29, Klem said,
Since the beginning of February, they were some of the best performing weeks in the history of the brand. For several different retailers, Ivanka Trump was a top performer online, and in some of the categories it was the... best performance ever. We actually feel super optimistic because, I think, one, a lot of people support Ivanka, even across both political parties. And then I think a lot of other people feel like, 'Oh, I didn't know Ivanka had a shoe line. Oh, I didn't know she had a handbag line.' And they're buying it.
Ivanka's brand saw a 346 percent increase in sales between January and February, according to Lyst, a fashion search engine.
Compared to average sales for February 2016, the brand sales increased 557 percent.
In January, Ivanka Trump's brand was ranked at number 550 in terms of overall sales via Lyst. But it February, it hopped all the way to number 11.
Responding to this huge surge in sales, Lyst's US public relations director Sarah Tanner said,
Ivanka Trump brand has never ranked in as a top seller on our site. To see such an extreme spike in one month is completely unheard of and came as a huge surprise to us.
The brand's recent success once again vindicates the old saying, "There's no such thing as bad publicity."
Citations: Will Ivanka Trump's Brand Be Even Bigger Without Ivanka? (It's Complicated) (Refinery29)