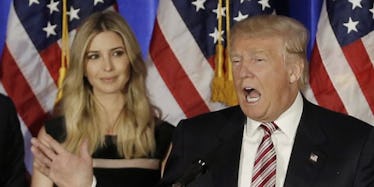 Trump's Tweet Attacking Nordstrom For Dropping Ivanka Completely Backfired
REUTERS
Donald Trump tweeted about Ivanka's clothing brand being dropped by Nordstrom because that doesn't scream conflict of interest or anything.
Trump tweeted about his daughter's business on Wednesday late morning, a few days after the news hit that the department store would no longer be selling her brand.
The president said in a tweet that Ivanka was being "treated so unfairly" by Nordstrom. He added,
She is a great person -- always pushing me to do the right thing!
His punctuation on this one was, "Terrible!"
The president then went ahead and retweeted his personal tweet from the official @POTUS account.
This is, uh, suspicious.
The president has insisted that he will not be involved in his family's businesses as he serves the country.
Tweeting about his family's businesses does not seem like the president not being involved in his family's businesses as he serves the country.
In fact, some might say this is a conflict of interest.
Bob Casey, a Democratic senator from Pennsylvania, tweeted some shade in response to Trump.
All he did was add a "CC" to the U.S. Office of Government Ethics Twitter account. That account has yet to respond.
As per usual, Trump's tweet was an emotional exaggeration of the facts.
Ivanka's brand was dropped by Nordstrom because of its poor sales performance. This is what you would consider "fair" and "smart" in business.
As a businessman, Trump should recognize this. Then again, he's never exactly been a fantastic businessman.
The sales drop was the president's own fault as consumers rose up against his misogynistic and hateful rhetoric.
A boycott, #GrabYourWallet, was started by Shannon Coulter last fall. Apparently, it's seeing results.
Meanwhile, Nordstrom doesn't seem to be suffering too much from Trump's hate.
After Trump tweeted about Nordstrom, their stock price bumped up a little. You can see it here, just after 11 am.
Stay mad, Donald.
Citations: Tracking Election (Washington Post), Nordstrom (MarketWatch)