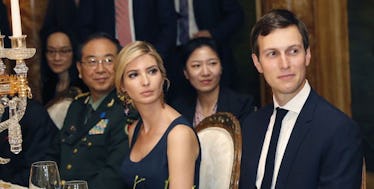 Ivanka Trump's Chinese Business Deal Could Get Her In A Lot Of Trouble
Shutterstock
Ivanka Trump is facing criticism for new business deals that just went through in China.
Once again, the daughter of the president is being accused of having conflicts of interest while officially serving in the White House.
The Chinese government approved three trademarks for Trump's brand to sell jewelry, bags and spa services in the country, according to the Associated Press.
Although Trump insists the company sought trademarks to protect the brand, it can mean a lot of money for the company.
The timing of Ivanka's Chinese trademarks approval is making people wary.
The trademarks were approved by the Chinese government on the same day that Chinese President Xi Jinping had dinner with Ivanka and Donald Trump while he visited Trump's Mar-a-Lago property in Florida.
Ivanka's participation in that visit was not very private.
Her 5-year-old daughter, Arabella, sang a traditional Chinese song in Mandarin to the Chinese president. Aside from making people older than five feel linguistically challenged, a video of the performance went viral.
Ivanka's company insists that the trademarks were not her personal doing.
Abigail Klem, president of the brand, said that the applications were done to protect the brand.
"We have recently seen a surge in trademark filings by unrelated third parties trying to capitalize on the name and it is our responsibility to diligently protect our trademark," Klem said in a statement.
There are trademarks applications in 10 countries still awaiting approval, according to the New York Times. Most of the trademark applications were filled out before Trump took an official position in her father's White House.
Trump's lawyer said that she was not involved with the applications.
But many ethics experts say Trump is toeing the line on conflicts of interest.
"I think that's wonderful for Ivanka that her businesses are doing well," Richard Painter, chief White House ethics lawyer for President George W. Bush told CBS, "and, uh, everything would be just fine if she weren't also working in the White House."
Painter added that under the Criminal Conflict of Interest statute, she should not be allowed to advise on governmental issues that could affect her company, like trade policies with China.
And this is not the first time Ivanka's brand has caused concern. Her father's defense of her company being dropped by Nordstrom led to calls of ethics violations.
Meanwhile, Trump counselor Kellyanne Conway was counseled after promoting Ivanka's brand on TV.
Ivanka Trump and her husband, Jared Kushner, have taken precautions to avoid conflicts of interest.
Trump announced in January that she would be taking a "formal leave of absence" from the Trump Organization and her Ivanka brand.
But, according to the New York Times, she still has financial interest in the company and can approve or veto some deals.
Trump is putting people on edge with her close involvement in the presidency. These questions will likely still come up as long as she still has money in her brand and is simultaneously dealing with governmental issues.
Citations: Ivanka's biz prospers as politics mix with business (Associated Press), Ivanka Trump's Global Reach, Undeterred by a White House Job (New York Times), Ivanka Trump involved in possible conflict of interest (CBS)