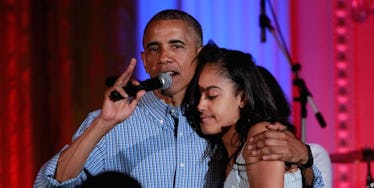 Lena Dunham Shares What Malia Obama's Like As Intern And She's Literally Barack
REUTERS
Lena Dunham hopped on Howard Stern's show on Monday and gabbed about Malia Obama and the end of "Girls."
In case you don't remember, the former first daughter actually worked on the set of "Girls" while she was interning at HBO in summer 2015.
As was always expected, Malia is more than just America's Coolest Teen.
According to Dunham, she's also America's Smartest Teen.
Given that her dad, Barack, is a huge nerd, and her mother, Michelle, is a two-time Ivy League grad, this does not come as much of a surprise.
Dunham said,
She is so smart. I once asked her, 'What's your favorite movie?' She was like, 'Do you want me to list it by favorite director, writer, or cinematographer?' I was like, 'You're smarter than me, let's just be done with this topic.'
Which might say more about Dunham's expectations for the teen than the teen herself, but whatever.
Dunham explained that Malia ended up working on the show because of the HBO internship.
She also talked about what Malia did on set. She said,
Obviously, we weren't making her go get our coffee. But she wanted to do all the jobs, that was the cool thing. She was totally enthusiastic.
This fits in with what local guides said about Malia's educational trip to Bolivia last year, where they said she did all the chores, same as anyone else.
Dunham went on to say,
She's done such a good job, and clearly her parents have done such a good job. When you see that family together, they're not performative.
Which, really, we could all see over the past decade.
Malia has a clear interest in the entertainment industry. Outside of the "Girls" HBO internship, she's now interning with major producer Harvey Weinstein, the genius behind many Oscar campaigns.
She was already at working at Sundance for the producer. Then Malia's off to Harvard in the fall.
The last season of "Girls" (NO!) begins this weekend.
Get your tissues and liberalism ready.
Citations: Lena Dunham Raves About 'Totally Enthusiastic' Malia Obama's Time Interning on 'Girls' Set (ET)