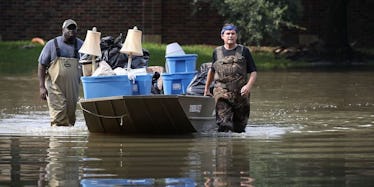 Houston Reflects The True Heart Of America After Hurricane Harvey
Joe Raedle/Getty Images
I grew up in Alief, a suburban community in southwest Houston. I had mostly black and Hispanic friends growing up, until I moved to attend Kempner High School, where different cultures were so immense, you couldn't help but connect with kids from all walks of life. At 25, I moved to Austin, where I've spent the last two years creating my own soundtrack living in The Live Music Capital of the World.
Flash forward to now, as I watched my entire city nearly drown, I can't help but feel an overwhelming sense of pride in my hometown.
The largest city in Texas, and the fourth largest in the entire country, Houston is host to over 2 million people. Entrepreneurs and artist from every corner of the world consider the sprawling metropolis their home. The city, for a long time, has been a quintessential representation of America's diversity. A true melting pot of color and creed.
However, Harvey, was a different kind of monster. It didn't care whether you were black, white, gay, or undocumented. But guess what? Neither did Houstonians.
I witnessed the people of my city transform into heroes, before the eyes of the entire nation. When everyone else was bickering and fighting between themselves, Houston saw through beliefs and culture and focused on saving lives simply because that's what true humanity is.
Charlottesville exposed the worst among us, but H-town displayed the real heart of America. Roads turned to rivers, and residents were surrounded by muddy water, fire ants, and snakes; yet still there were the amazing and inspiring stories reported.
Such as the neighbors who formed a human chain to rescue an elderly man from his car, and the huge chain of restaurants and grocery stores who delivered food and supplies to whomever was in need. There were also the everyday locals, who used their own boats or purchased one to save desperate people in flooded homes. Marvel and DC Comics couldn't even write the valiant rescue missions that Houstonians undertook.
Some undocumented residents feared deportation if they asked for help, a sad reflection of our current political climate. However, Houston's own Mayor Sylvester Turner who is a lawyer himself, vowed to represent anyone who faced issues with immigration. He urged everyone to reach out regardless of race, color, religion, or status. He promised that they will be helped, and they have.
Ordinary people have displayed extraordinary compassion. Empathy should be the foundation of every society, and Houstonians have portrayed a strength more powerful than any hurricane. Muslims, Christians, Democrats, Republicans, and everyone in between worked together and put lives ahead of trivial differences. It didn't matter who you were -- if you had a pulse, if you were alive, you would be helped. No questions asked.
Why do we care so much about geographic location and physical appearance? At our core, are we all not pining for love and happiness?
If this catastrophic event doesn't open the eyes of each and every American, then I'm not sure what will. No matter what God you worship, who you f*ck, or what cause you affiliate with, at the end of the day you're as fragile as everyone else. If we attempt to face the challenges of our universe as individuals, then we're doomed to fail.
I hope Houston now stands as a symbol to every single cynical person around the world. Humans are more than death, destruction, and ego. We are also selfless, loving, and willing to sacrifice for each other. The world doesn't need another wall, instead we need to focus on building bridges. H-town will rebuild. Like the poet Kendrick once said, "We gon' be alright."