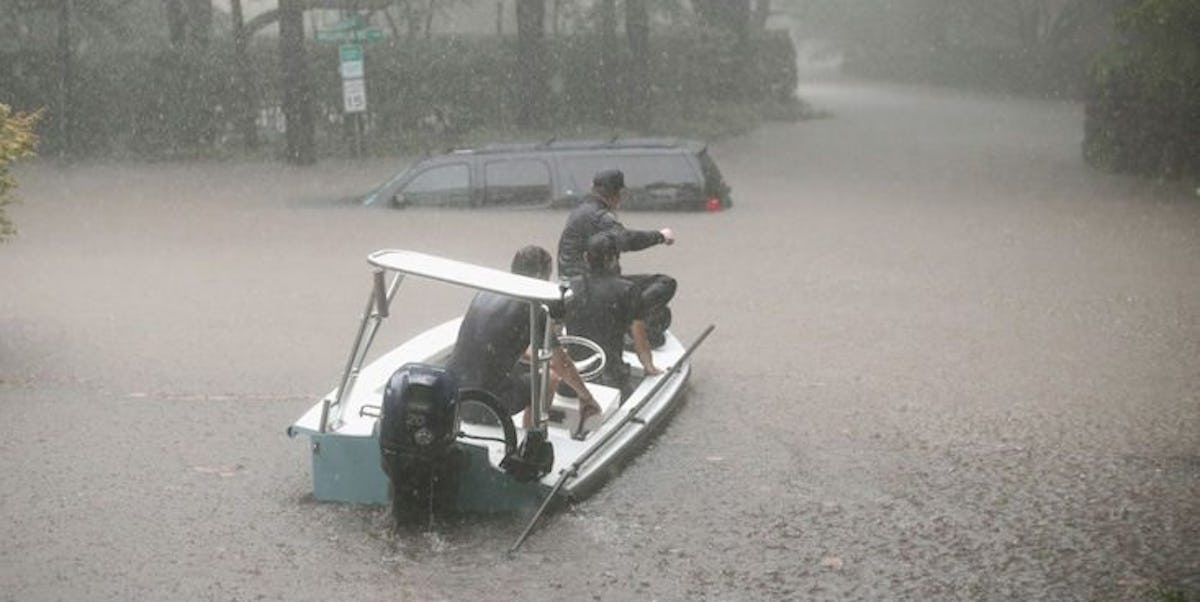 People Are Sharing Videos Of Heroes In Houston And It's So Inspiring
Scott Olson/Getty Images
Water continues to rise in Houston, Texas, as Hurricane Harvey continues its path across the city of more than 6 million people. Five people died in the storm as of Monday morning, Aug. 28, according to the New York Times, and countless homes have been destroyed. But through the damage, there have been many inspiring moments of humanity. People are sharing videos of rescues in Houston.
There have been a large variety of rescue efforts going on throughout Houston and the surrounding area in the wake of Hurricane Harvey. The Category 4 hurricane first made landfall on Friday night, Aug. 25. The National Weather Service described the storm as "unprecedented" in a tweet on Sunday, adding that "all impacts are unknown & beyond anything experienced." More than 56,000 calls have been made to 911, ABC News reports, and the City of Houston Twitter account asked residents to only call "if in imminent danger."
The Coast Guard has been working in Houston to rescue people as local efforts continue. ABC News reports that 1,500 to 2,000 rescues have taken place. Meanwhile, Harris County Judge Ed Emmett asked on Sunday that any member of the public with a boat or a high-water vehicle help out with rescues as the state needs more vehicles to aid the efforts. He said,
We desperately need boats and high water vehicles ... We can't wait for assets to come from outside.
Many locals have already taken on Emmett's call and are helping out with rescues in any way they can. And throughout all of this, news crews covering the hurricane have jumped in to save lives when they're able. The videos and images of these rescues have been nothing short of inspiring.
A CNN reporter helped an elderly couple get out of their flooded home.
This Texas resident out to "save some lives" is the hero we need.
People are calling for this rescue worker to be made into a statue.
Austin Seth traveled more than an hour with his boat to rescue people in Dickinson, Texas.
HuffPost reporter David Lohr used his boat to help firemen make rescues.
One man has been helping people get to drier land on his kayak.
The people of Houston are doing whatever they can to help each other.
Neighbors are helping neighbors.
We're learning what it really means to be #HoustonStrong.
Damage from the hurricane is still ongoing, and there's no telling what the impact will be, both physically and emotionally for the infrastructure of the city and the people living there. But these moments remind us that there are heroes among us, and we can all come together to help each other out.