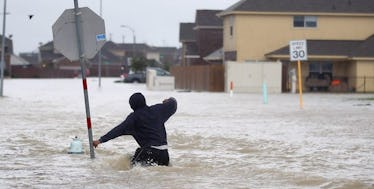 Hurricane Harvey Recovery Could Take Years, And The Storm's Not Even Over
Joe Raedle/Getty Images
Hurricane Harvey is ravaging Texas, and it doesn't look like the storm is going to be easing any time soon. But what do the storm's victims have to look forward to once the skies clear? More struggle and heartache, apparently. Even as the rains continue to fall, some experts are estimating that Hurricane Harvey recovery could take years.
As early as Sunday, Aug. 27, only a day and a half after Harvey made landfall on Friday evening — and after the storm had been downgraded to a tropical storm on Saturday — Federal Emergency Management Agency (FEMA) officials were already saying that it could take years to recover from the storm's effects."This disaster is going to be a landmark event," FEMA Chief Brock Long said, according to USA Today. "We're setting up and gearing up for the next couple of years." 
Storm damage isn't a one to one measurement. While there have been a number of extremely damaging storms in the last 15 years — Rita, Sandy, and of course 2005's Katrina come to mind — officials think it's still too early to make direct comparisons between Harvey recovery and that of other devastating storms.
Which isn't to say there aren't similarities.
Gavin Smith, director of the Department of Homeland Security's Coastal Resilience Center of Excellence at the University of North Carolina, told The Guardian that there were parallels with Hurricane Katrina, which killed nearly 2,000 people in 2005. He said,
Houston, in some ways, is somewhat similar to New Orleans, in that it's a major metropolitan area that was inundated by a major flood … It just so happens that in New Orleans the levees broke. They thought after the storm passed, they thought everything was OK. And then the levees broke.
Smith also emphasized one of the lessons from Hurricane Katrina, namely, that low- or middle-income people would need a whole lot more help to recover than high-income households. "Their capacity to recover is very different from those that have flood insurance, that have the economic means to recover on their own."
A reminder: Hurricane Katrina, which made landfall outside New Orleans on Aug. 29, 2005, killed 1,833 people, cost an estimated $108 billion, and displaced more than a million people, per CNN. More than 10 years on, the population of New Orleans still hasn't recovered.
And the rain continues to fall.
As of Tuesday, Aug. 29, Harvey's deluge had broken the record for a single tropical cyclone in the continental United States, with Cedar Bayou, Texas, reporting a record 51.88 inches of rain, according to the National Weather Service. And it's nowhere near over — the rain is predicted to continue through at least Friday, according to The New York Times, as the storm begins moving northeast towards Louisiana.
Houston Mayor Sylvester Turner also told the Times that for now, the focus would be on rescuing those affected, and not damage assessment or recovery. The storm has already been devastating: at least 13 people are confirmed dead, and thousands have been rescued from the flooding, with the Houston Police Department alone having saved more than 3,500 people.
If you want to lend a helping hand, Elite Daily's put together a list of ways you can help Hurricane Harvey victims. Our thoughts are with everyone affected by the storm.