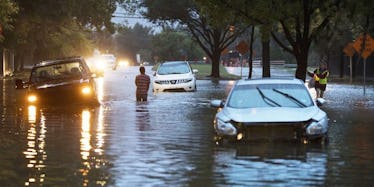 This Is How You Can Help Those Affected By Hurricane Harvey
Erich Schlegel / Getty Images
The Category 4 Hurricane Harvey unleashed monumental damage on Texas this weekend, causing thousands of people to evacuate. Having seen the aftermaths of Hurricanes Katrina, Allison, and Sandy, people are seeking ways to assist the victims. If you're one of them, here's how you can help the victims of Hurricane Harvey.
Over the weekend, videos and photos of heroic efforts to rescue Texans stranded by the storm covered social media. Some 30,000 people may be forced to leave their homes in the area as flooding continues, The Washington Post reports, and an estimated 82,000 homes are without power in the metropolitan city of 6.6 million people.
The response has been swift. Search-and-rescue teams and response agencies have been dispatched from all over the country, including California and New York, to help the Houston area and beyond. GoFundMe and other crowdsourced fundraising efforts are raising funds for the victims, as are celebrities. Kevin Hart has thrown down a donating challenge to inspire his peers to do their part, putting down $25k of his own.
Feeling inspired yet? If you're ready to help, here are a few ways to get started.
1. Donate Money
There are plenty of reputable, time-tested aid organizations that you can be sure are experts in natural disaster assistance and will get the money where it needs to go. On CNN this weekend, Texas Gov. Greg Abbott recommended donating to the American Red Cross. Americares and Samaritan's Purse are also accepting donations, and Global Giving has a Hurricane Harvey fund with a $2 million goal.
Local animal shelters are also in need while they help Texas' pet owners care for their four-legged friends.
2. Donate Blood
No cash to spare? No problem. Blood supplies will be especially needed now to help the Texas region deal with the hit it took. If you're not afraid of needles, consider donating blood to the Red Cross or to Texas' Carter BloodCare or South Texas Blood & Tissue Center. You can see a list of other donation centers here.
3. Donate Food
Food banks in Texas will be impacted by the storm's damage, and it might be weeks or months until some are back to their normal lifestyle. In addition, the area's homeless are always in need. Look into donating nonperishables to the Texas Food Bank. You can also donate money if you're outside the area.
4. Host Refugees
Airbnb has set up a free emergency housing system for those who have been displaced by the hurricane, waiving all its services and fees for accommodations between Aug. 23 and Sep. 1. You can list your home here or look for housing.
5. Volunteer
If you're a hands-on person, volunteering is a great way to help. With long-term damage, volunteers will be needed in the coming weeks and months. Consider registering to join the Red Cross, Salvation Army, or Team Rubicon.
6. Think Outside The Box
The damage is sure to last months, and there are many ways to provide assistance to people in times of need. If you have a craft or trade or can provide basic supplies on the ground, these can all be of use.
Not finding the right charity to donate to? Check out Charity Navigator's guide for Hurricane Harvey. The charity rating site has earmarked the top organizations accepting donations, complete with in-depth info and scores, including how they utilize funds.
No matter how you help, it's worth doing.