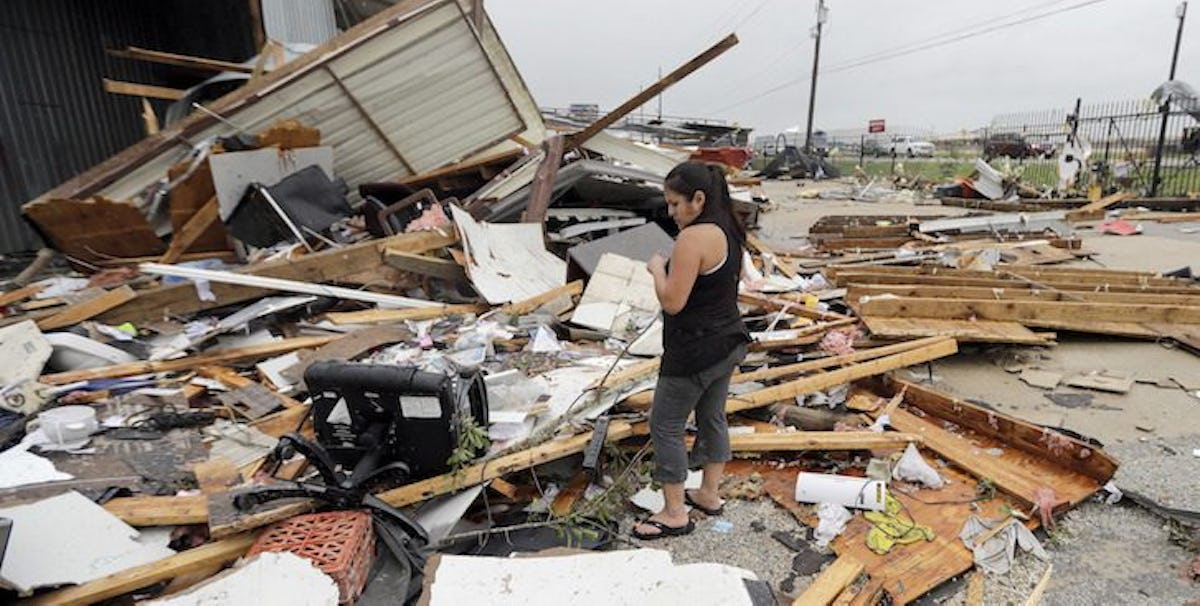 Incredible Photos Of Hurricane Harvey Devastation Show What It's Like In Texas
AP/REX/Shutterstock
Hurricane Harvey hit the Gulf coast of Texas on Aug. 25, ripping off roofs, causing major flooding and leaving approximately 250,000 people without electricity. The storm's category has been downgraded to a tropical storm as of Saturday afternoon, with wind speeds reaching around 80 miles per hour. Though the full extent of damage on the area isn't yet clear, photos and videos of Hurricane Harvey show a devastating effect.
The storm is expected to continue into the middle of next week, and, according to The New York Times, meteorologists estimate that there could be three feet worth of rain from Corpus Christi to Houston.
The first fatality was reported Saturday afternoon. A victim was killed in a house fire in Rockport, Aransas County, one of the areas hit hardest by the storm, according to CNN. Rockport's Mayor Charles Wax said that emergency workers are beginning to go house to house, to check in on residents and take note of the damages inflicted on their properties. The city experienced a delay in their emergency response system because cellphone service went down.
Houston was also effected by torrential downpour, according to The Chicago Tribune, with rain falling at almost 3 inches per hour and major flooding. Residents received mixed messages about leaving the area — Gov. Greg Abbott suggested evacuation, while Houston authorities discouraged people from taking to the roads, where flooding was most likely to occur.
Either way, officials are bracing for the worst. Eric Blake, a specialist at the National Hurricane Center in Miami, told the Chicago Tribune,
Our focus is shifting to the extreme and potentially historic levels of flooding that we could see.
Pictures of the devastation have been rolling in on social media.
Snaps of upturned cars, collapsed houses and palm trees sinking below the surface of water, are filling up the hashtag #HurricaneHarvey on Twitter.
Harvey is the first major hurricane to make landfall since 2005, when four major hurricanes — including the deadly Katrina — hit the United States. Katrina alone killed an estimated 1,200 people.
Those affected by the storm are going to need help putting their lives back together. If you want to reach out and help the victims, The Weather Channel's website recommends donating to The Red Cross or The Salvation Army, as well as giving blood if you're in the area.