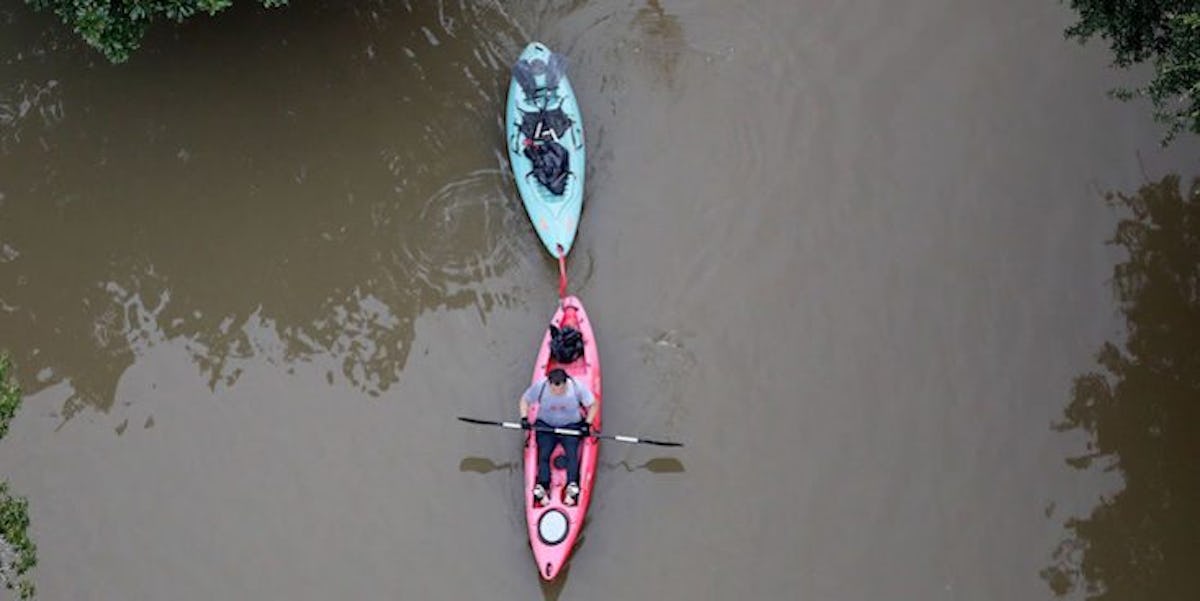 Pizza Hut Is Delivering Pizza In Kayaks To Flood Victims And Twitter Is So Proud
Win McNamee / Getty Images
Hurricane Harvey has been testing the resolve of Texas for nearly a week now. The number of Houston residents who have been displaced by the flooding continues to grow. Sometimes, there isn't enough time to get out, and people become trapped in their homes due to the rising water. How is the community responding? Well, Pizza Hut is delivering pizza in kayaks to flood victims, and Twitter is loving this good deed.
According to Eater, Shayda Habib, the store manager of a Pizza Hut in Sugar Land, Texas, wasn't going to sit by and watch the devastation. She recruited her husband and six employees to make their way to the restaurant, and they cooked more than 100 pizzas for fellow Texans who were stuck in their homes because of the flooding. As for their method of transportation, Habib rounded up some kayaks and waded through the flood waters to reach those in need. She told the Houston Chronicle, "It was so nice to see their smiles after so much gloom." I guess that's why Habib plans to keep the pizzas coming until the supplies run out.
Naturally, Twitter was all over this story because selfless actions in a time of crisis are what remind you that there is a light at the end of the tunnel.
There was no shortage of praise for this awesome pizza delivery.
Others were so touched by the actions of these kind folks because it reminded them that good people show up when they're needed most.
Others couldn't find the words to express their gratitude, but they knew Pizza Hut deserved a big round of applause.
As you continue to follow the aftermath of Harvey, remember that for every account of devastation, there are plenty of people ready to rise to the occasion to do whatever they can to help their neighbors.