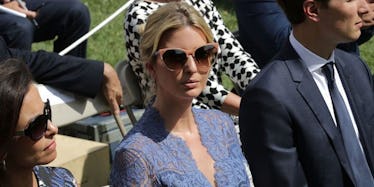 We Finally Know What Ivanka Trump Knew About The Trans Military Ban
Chip Somodevilla/Getty Images
At the beginning of the Trump administration, many hoped the first daughter and her husband would be able to use their influence to push her father in a progressive direction. But when the president announced he was moving to ban trans people from the military, Ivanka Trump was caught completely off guard, Politico reports. The announcement stood as yet another reminder of her inability to influence her father's policy decisions.
Like the rest of us, Trump and her husband, Jared Kushner, learned about the proposed trans military ban via President Donald Trump's tweets, according to Politico. They both work in the White House, but apparently couldn't get so much as a text from the president about this decision.
Elite Daily reached out to the White House for comment from Ivanka Trump but did not hear back at time of publication.
Trump has consistently attempted to present herself as a voice of reason in the White House, especially on social issues, but the results aren't there.
On a number of issues, Trump has publicly taken what might be viewed as liberal stances. In June, in recognition of Pride Month, Trump tweeted she's "proud to support my LGBTQ friends."
Prior to Inauguration Day, Trump said she wanted to make climate change one of her "signature issues." But from the decision to withdraw from the Paris climate accord to the proposed trans military ban, it's pretty evident the president will do whatever he wants, regardless of how Kushner and Trump feel.
Long story short, if Trump and Kushner truly are pushing for Trump to be more progressive on certain issues, they're clearly doing a terrible job.
Trump and Kushner apparently played a big role in recent changes in staff in the White House.
In the past two weeks, we've seen both White House Press Secretary Sean Spicer and White House Chief of Staff Reince Priebus exit the White House.
Spicer resigned on July 21 after Anthony Scaramucci was named the new White House communications director.
Priebus was dismissed a week later, on July 28, following a bombshell report from The New Yorker featuring a profanity-laced interview with Scaramucci. He was replaced by retired Marine General John Kelly.
According to Politico, Trump and Kushner pushed for both of these moves. They reportedly thought replacing Priebus would help "professionalize the West Wing," and were also supportive of bringing Scaramucci in.
So, to sum things up, while Trump and Kushner have seemingly failed to push the president to do anything meaningful from a policy standpoint, they have helped him turn the White House into what feels like a reality TV show, in which someone gets eliminated each week.