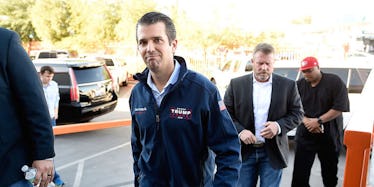 Everybody Is Comparing Donald Trump Jr. To Gob Bluth From 'Arrested Development'
David Becker/Getty Images
Now, the story of a wealthy family who made America lose its mind -- and the one son who figured he had no choice but to tweet out a bunch of potentially incriminating information... I'm talking about the Trumps, of course, not just paraphrasing the Arrested Development introduction.
But a lot of people seem to think the Trumps are looking like the Bluths from Arrested Development these days.
After a whirlwind week following The New York Times' report of a June 2016 meeting between Russian lawyer Natalia Veselnitskaya and Donald Trump Jr., Trump Jr. tweeted out the "full email chain" of the meeting on Tuesday, July 11. He tweeted the emails after being told that The New York Times was going to publish an article with the content of the emails, the Times reports.
This move was especially shocking because of the content of the emails between Trump Jr. and his associate Rob Goldstone, a publicist and former British tabloid reporter.
The email clearly shows Goldstone saying the meeting could get Trump Jr. information that "would incriminate Hillary [Clinton] and her dealings with Russia and would be very useful to your father." The email also reads,
This is obviously very high level and sensitive information but is part of Russia and its government's support for Mr. Trump.
Twitter was shook over Trump Jr.'s reveal, especially given that he'd previously denied knowing, like, pretty much all of that. Meanwhile, by showing that he knew that information, Trump Jr. may have given the public evidence of a crime. It is against federal law to "knowingly solicit, accept, or receive from a foreign national any contribution or donation."
With this whole mess going on in the Trump family, people are turning to Arrested Development to make sense of it all.
In case you forgot, Gob is the oldest Bluth child -- like Don Jr. is the oldest Trump child.
On the show, Gob is the blubbering fool always trying tricks -- excuse me, illusions -- to help his family and win his father's love and attention.
Twitter has been quick to make the Donald Trump Jr./Gob Bluth connection.
Of course, there are other potential comparisons -- many are saying Don Jr.'s the "Fredo" of the family (The Godfather, folks).
In any case, there's always money in the banana stand.