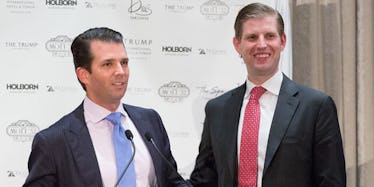 Man Who Set Up Trump Jr.'s Russian Meeting Left His Facebook Public And OMG
Phillip Chin/Getty Images for Trump International
You thought politics couldn't get any more fascinating.
Then came reports of a scandalous meeting between Donald Trump Jr. and a Russian lawyer with ties to Vladimir Putin's government.
Then came reports that the same meeting was agreed to because the Russian lawyer might have had dirt on Hillary Clinton.
And now comes a fact that's even more head-scratching: The guy who set up the whole meeting has the most random Facebook profile on earth.
Let's examine the evidence.
Here is Rob Goldstone, an apparently super-connected man, seemingly connecting Donald Trump and music producer Timbaland.
Here's Rob Goldstone, reported mastermind behind Trump Jr.'s politically damaging meeting, advocating for less war.
Here's Rob Goldstone, he of ever-growing political fame, sporting a new hat.
If you're wondering why Goldstone's Facebook posts are all over the place, you must be new here. Practically every single story about every single thing related to the Trump-Russia narrative is all over the pace.
In other words, nothing is surprising anymore, not even the news that came on Monday night, July 10. According to the New York Times, Goldstone emailed Trump Jr. last June, informing the then Republican candidate's son that the info about Hillary Clinton the Russian lawyer could provide was related to the Russian government's efforts to damage Clinton's campaign.
In other words, according to the report, Trump Jr. was told the Russian government was seeking to influence the American election.
So now Goldstone is relevant.
The story about Trump Jr. going ahead with the meeting, along with President Donald Trump's son-in-law Jared Kushner and former campaign manager Paul Manafort, begged a whole bunch of questions.
Those questions included the obvious: So, were the Trumps really comfortable with working alongside Russian actors to damage Clinton's campaign?
Besides that, though, there was another question: Who is this Goldstone guy that made this meeting happened? On Monday night, a few journalists helped answer that question after discovering Goldstone's Facebook has been left public.
Rosie Gray, White House Correspondent at The Atlantic, tweeted:
And then there was Ben Jacobs, reporter for The Guardian, sharing this Facebook post, which shows Goldstone "checking in" on Facebook at Trump Tower, the day the alleged meeting of note occurred.
In short, lots of people discovered what this latest story has proved...
Indeed, nothing makes sense anymore.