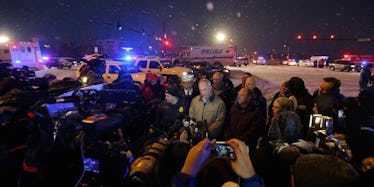 Should Abortion Clinic Attacks Be Investigated As 'Domestic Terrorism'?
Getty Images
Less than a week after a shooter killed three in a Planned Parenthood in Colorado Springs, the Senate passed a bill to defund Planned Parenthood.
Meanwhile, Democrats in the House are calling for a Special Investigative Panel on Planned Parenthood to be disbanded, saying its only effect would be to stoke violence against abortion clinics.
This is a different Congressional committee than the one that hosted a hearing with Planned Parenthood president Cecile Richards riddled with inaccuracies.
Republican presidential candidates have added to the harsh rhetoric about abortion.
States have been passing laws that make it difficult for abortion clinics to stay open. A case from Texas is being debated in the Supreme Court.
These examples suggest that, perhaps, many people in the government would much rather see abortion clinics shut down than kept safe and accessible.
This is, in part, what's driving NARAL Pro-Choice America's campaign to have violence in clinics investigated by the Department of Justice as "domestic terrorism."
NARAL has been pushing for this recognition since before last week's attack in Colorado Springs, Vox reported.
Violence against abortion clinics and providers has been happening since Roe vs. Wade in 1973.
This history was highlighted during the 2001 anthrax attacks, which were almost immediately called "terrorism." Abortion clinics had been getting similar anthrax threats and fake mailings since 1989.
In 2001, Planned Parenthood director of security Ann Glazier told the New York Times:
There has always been reluctance by the Justice Department to define what happens at clinics as domestic terrorism.
Violence against abortion providers increased since the pro-life Center for Medical Progress released videos this summer about fetal tissue research.
Between July and October, four Planned Parenthood centers were attacked with arson.
Anti-abortion rhetoric is violent -- it calls abortions "murders" and says doctors "kill babies."
Ilyse Hogue, president of NARAL, said in a press call on Wednesday that the verbal and legal attacks on abortion has spurred the rise in physical violence.
Rep. Jerrold Nadler of New York told Elite Daily that the Congressional committee on Planned Parenthood would "perhaps [increase] the body count," referring to the Colorado Springs shooting.
NARAL, along with UltraViolet, Credo Action and Courage Campaign, want clinic attacks recognized as "domestic terrorism" to protect patients and providers and to show the connection between violent language and violent action.
The FBI defines "domestic terrorism" as a dangerous act committed in the US meant to influence civilian action or domestic policy. So presumably, an attack at an American clinic intended to scare people from getting or providing abortions classifies as "domestic terrorism."
The term "terrorism" is a heavy one. Although the FBI has a definition for it, "domestic terrorism" is not a specific statute in criminal law.
But, NARAL posits more federal resources would be directed to protect abortion providers from attacks should these attacks be recognized as terrorism.
Rather than have local law enforcement investigate individual attacks, violence against clinics across the country would be seen as a sort of network instigated by the same rhetoric and ideology.
David S. Cohen, a law professor at Drexel University and author of "Living in the Crosshairs: The Untold Stories of Anti-Abortion Terrorism," said that if these acts are seen as terrorism:
People take it more seriously, they understand these are not individual acts, they understand they are more serious than your ordinary crime, and they understand they're motivated by this bigger picture goal of trying to end legal abortion.
This recognition would implicate politicians' and pro-life activists' language as instigators of physical violence, presumably forcing self-examination of the language.
Carole Joffe, a professor at the Bixby Center for Global Reproductive Health at the University of California, San Francisco said:
I think -- I hope -- it makes it harder for people to defend it or to minimize [an attack]. If it's terrorism, it's much harder for political candidates to say 'I defend terror.'
Republican politicians have written the Planned Parenthood shooting suspect Robert Dear off as a deranged individual, suggest that he was not influenced by violent language used against the healthcare organization.
This follows a pattern of pro-life people rejecting responsibility for attacks on abortion providers. Karissa Haugeberg, a history professor at Tulane University working on a book about abortion, wrote in an email:
Since the 1980s, leaders of anti-abortion organizations have generally offered tepid condemnations of pro-life violence and have often directed responsibility for violence (even violence perpetrated by anti-abortion activists) back to abortion providers themselves for promoting a 'culture of violence.'
Calling Dear a terrorist is complicated. Max Abrahms, a political science professor at Northeastern University, said:
I am not opposed to applying the label of domestic terrorist to Robert Dear. He is a non-state actor, he attacked a civilian target, and he said a few things that do suggest that he was motivated by his extreme political agenda. That said, I also understand that his political utterances were relatively marginal in his comments after the attack. So, for that reason, this isn't the most clear-cut case.
However, Joffe said, that doesn't mean he wasn't influenced by the rhetoric against Planned Parenthood:
He was clearly a very disturbed individual, but where do they act out their rage? There were so many places he was angry about, why a Planned Parenthood?
Had previous clinic attacks been deemed "domestic terrorism," it's possible that pro-life language would have become more peaceable and less likely to influence violence.
Regardless of this specific case, NARAL wants violence against abortion clinics to be marked as terrorism so that they are taken more seriously.
They want women's healthcare providers and those that seek their services -- as well as supportive friends and family -- protected from physical ideological attacks.