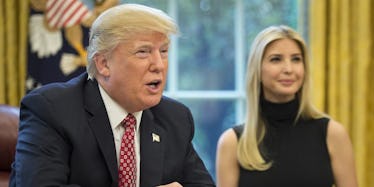 10 Tweets That Perfectly Describe Donald Trump's First 100 Days
Getty Images
Saturday marks 100 days in office for President Donald Trump.
During his presidential campaign, Trump made big promises on what he would deliver in this time period.
But, when it comes down to it, he's accomplished very little so far.
In spite of making a big deal about the 100-day mark during the US presidential campaign, Trump has argued it's an a "ridiculous" measuring stick.
It seems he didn't anticipate how difficult the job would be, something he somewhat admitted in a recent interview with AP.
There's been a lot of discussion about what Trump's first 100 days really means on Twitter.
Here are 10 of the best tweets on this that really put it all into perspective.
Trump has signed more executive orders than any president since WWII.
But, he has no significant legislative achievements, and much of his time in office thus far has been dominated by discussions about his ties to Russia.
His biggest accomplishment is getting Judge Neil Gorsuch on the Supreme Court, which he somehow managed to fit in between tweeting and, well, tweeting.
Meanwhile, on the diplomatic front, he's done basically zilch.
It's often felt like Trump doesn't really want to be president, as his top advisers -- who happen to include his daughter and son-in-law -- seem to do most of the work.
So, it's not all that surprising 56 percent of Americans said they don't think Trump has done much in his first 100 days.
But to the Trump administration's credit, it has inspired a lot of solid, hilarious SNL skits.
For the most part, President Trump seems to have everyone asking, "Has it really only been 100 days?!"
Believe it or not, that's it.