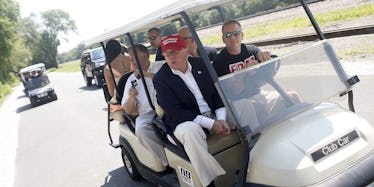 12 Better Ways To Spend The Money Secret Service Dropped On Trump's Golf Carts
REUTERS
The Secret Service has to spend a TREMENDOUS amount of money on President Donald Trump's frequent trips to his Mar-a-Lago estate in Florida.
Each weekend trip costs about $3 million. Next week will mark the sixth time the president has spent $3 million of taxpayer money to go to Florida for the weekend, totaling $18 million.
That $3 million price tag includes transportation, security and... golf carts.
Mar-a-Lago is not a presidential household, therefore it's not properly equipped for security. This means the Secret Service has to incur more costs to create proper security, like by renting tents, portable toilets and light towers.
Meanwhile, Trump keeps golfing at Mar-a-Lago (and other places). Since the inauguration, he has gone golfing 13 times, which is LOL considering these tweets:
Trump's weekends at Mar-a-Lago are costing taxpayers a considerable amount for, yes, golf carts.
So far in 2017, the Department of Homeland Security, which includes the Secret Service, has paid $24,685 to Golf Car & Utility Vehicles Distributors, a Miami-based company, according to USA Spending, a government transparency site.
CNN reporter Nathaniel Meyersohn found $16,000 of the $24,685 was apparently just for golf carts, spent over three "POTUS VISITS."
According to USA Spending, the remaining $8,000 was spent on "Ground Effect Vehicles, Motor Vehicles, Trailers, and Cycles."
The government has paid this company before, but never this amount.
The Trump administration in 2017 has already surpassed the highest amount paid to Golf Car & Utility Vehicles Distributors in the previous five years.
Thanks, Obama.
Let's put the money spent on Trump's golf carts into perspective.
We'll take the more conservative $16,000 estimate on just golf carts for the president.
If you had $16,000, you could backpack around the world — twice...
AirTreks estimates backpacking literally around the world for a year can cost $6,000. You could go around the world twice over two years and still have some money left with Trump's golf cart cost.
And if you want to take a more comfortable trip around the world for a year, AirTreks estimates it would cost $24,000, which is the full price paid to Golf Car & Utility by the government so far this year.
Get married in Palm Beach...
The average cost of a wedding with fewer than 50 guests in Palm Beach ranges from $12,00 to $21,000, according to Cost of Wedding.
You'd have to go on the smaller side, but you could pull it off with $16,000.
Eat 3,000 Grand Macs...
Let's assume a Grand Mac costs $5 and some change, depending where you are; 16,000 divided by five is 3,200.
Eat up.
Raise a baby for a year...
The average cost of the first year of a baby's life is $12,000, according to a USDA report.
With the price being paid for golf carts, you could raise a baby for a year and still have money left for the second year.
Throw a serious rager...
Let's say a keg, including tap and container, costs around $300 on average.
You could buy 50 kegs and still have $1,000 left to get a few bottles of liquor.
Buy a real car...
On Tuesday, March 28, Trump tweeted "JOBS! JOBS! JOBS!" (literally) while making a "big announcement by Ford."
Trump was claiming responsibility for the job creation but, in fact, Ford started this plan in 2015.
A 2016 Ford Fiesta starts at $14,090. No more need for golf carts then.
Use 500 Kylie Lip Kits...
You really want that Spice matte lip kit, yeah? It costs about $30. That comes out to a little over 500 lip kits. Get smacking.
Pay off student loan debt...
The average student loan debt is $37,172. So, OK, you wouldn't be able to pay off the whole thing with $16,000 spent on golf carts, but you'd cut it down by a good chunk.
Gosh, if only we had somebody in a position of power who could figure out something to couch the growing national student loan debt...
Get a Birkin bag...
OK, you'd have to go on the lower end for this, but it's a great investment!
New Birkin bags start around $12,000, so you could buy one and watch that value increase over time.
Pay for 20 of your friends' IUDs...
Should the Republicans eventually take away Obamacare and Planned Parenthood and suddenly leave us without insurance and sliding-scale payment options, an IUD costs around $700 on average.
Help a sister or 20 get through the Trump presidency by using golf cart costs for her IUD.
Buy up bunch of TV ads to play over the weekend in Palm Beach...
It's widely known Trump watches a lot of cable news, even when he's spending the weekend at Mar-a-Lago.
So some organizations have begun buying ads to play on TV in Palm Beach, Florida.
Planned Parenthood paid just $675 for ads that Trump was sure to see. UltraViolet paid $2,050.
You could get a giant load of ads in Trump's face for $16,000.
...obtain 200,000 bouncy balls.
Fun Central is currently selling 250-count packs of bouncy balls for $20. Math says you can get 200,000 bouncy balls for $16,000 — and they're available on Amazon Prime.
Citations: Trump to return for sixth time, this time with Chinese president (Palm Beach Post), Trump notches his 13th golf course visit (CNN), RECIPIENT PROFILE: GOLF CAR & UTILITY VEHICLE DISTRIBUTORS, LLC (USA Spending), How Much Does a Round the World Trip Cost? (AirTreks), Average Wedding Cost in Palm Beach, FL Zip Code 33480 (Cost of Wedding), The Cost of Raising a Baby (Parenting), As Trump Flaunts Ford's $1.2B Investment, Ford Says It Was Planned in 2015 (NBC News), TV ads in West Palm Beach aim for an audience of one (CNN)