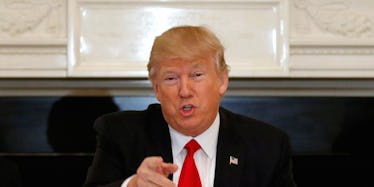 Donald Trump's Controversial Florida Vacation Is Costing You A Lot Of Money
REUTERS
President Donald Trump is about to take a very uncomfortable vacation -- and it's going to cost you some money as a taxpayer.
The president will be spending this weekend at his Mar-a-Lago resort in Palm Beach, Florida. He will be meeting wife, Melania, there.
The American Red Cross is hosting an annual fundraising gala at the resort on Saturday night, which has drawn some criticism and uncomfortable chuckles given the organization's aid to refugees.
That aid stands in stark contrast to Trump's refugee and immigrant ban.
Anti-Trump groups are already planning a protest on Saturday through West Palm Beach.
But the weekend isn't controversial just because of the Red Cross event.
It's turning controversial because of the hefty price tag for a weekend getaway.
Trump's weekend trip will likely cost taxpayers upwards of $3 million, according to Politico. That includes the over $200,000 it costs to fly Air Force One -- per hour.
A traveling president costs money, and Barack Obama took his fair share of trips.
So it's not just the cost that's making people go:
It's more about a certain amount of hypocrisy Trump appears to be displaying in taking this vacation.
Trump spent a lot of time during Obama's presidency criticizing him for taking trips.
He tweeted at various points throughout the eight years in opposition to Obama leaving DC, especially when it came to golfing.
In 2011, Trump said Obama "takes more vacations than any human being I've ever seen." He added the president being on vacation "sends a bad message."
The week after the election in November, Trump again spoke about presidential vacations. Then, he said,
There's just so much to be done. So I don't think we'll be very big on vacations, no.
To Trump's credit, he did manage to make it a solid thirteen days before taking a vacation.
Citations: www.mypalmbeachpost.com Logo AUTOS HOMES JOBS CLASSIFIED OUR PRODUCTS 79 LOCAL U.S./WORLD EXCLUSIVES WEATHER SPORTS TRAVEL FOOD EPAPER LOG IN SUBSCRIBE as low as 99¢ Trump returns to Palm Beach today for first time as president (My Palm Beach Post), Trump's Mar-a-Lago getaway could cost taxpayers more than $3 million (Politico), Trump: Obama 'Takes More Vacations Than Any Human Being I've Ever Seen' (Fox)