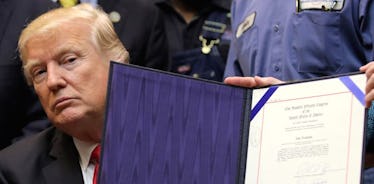 Trump's Already On Track To Cost You More Money Than Obama Did His Entire Term
REUTERS
President Donald Trump liked to talk a lot of shit about how much money Barack Obama was costing American taxpayers.
He talked about his expensive vacations and golfing excursions.
But now that he's president, Trump is doing the same — and he's doing it even worse.
Between Trump's frequent trips to Palm Beach, Florida, and his family's habits, the cost of this presidency is going way up.
First of all, each of those weekend Mar-a-Lago trips cost about $3 million.
In his first month as president, Trump took three trips to Mar-a-Lago. That's about $9 to $10 million on trips to Florida in his first month alone.
Palm Beach County officials are asking for reimbursements of tens of thousands of dollars a day for security and traffic when Trump is at Mar-a-Lago, according to The Washington Post.
Local taxpayers were cost about $60,000 a day for overtime police work.
Meanwhile, Mar-a-Lago isn't equipped for a president.
Secret Service paid more than $12,000 for tents, portably toilets, light towers and golf carts just to make sure they could all do their work for Trump's Super Bowl weekend trip.
Bedminster, New Jersey, where Trump has a golf course, is also preparing for costs incurred by Trump appearances.
And that's not all!
The rest of the Trump family is costing a ton of money as well.
First Lady Melania and son Barron Trump are living in New York City until Barron finishes out the school year. That is an extremely costly decision.
The city of New York is paying $500,000 each day to guard Trump Tower. By the end of the year, that could amount to $183 million.
Trump's sons, Eric and Donald Jr., are heading to the United Arab Emirates this weekend for the opening of a Trump golf resort, which is more money for their Secret Service.
The weekend trip to Dubai is already costing Secret Service more than $16,000 in hotels.
When Eric went to Uruguay for another Trump property, Secret Service and U.S. Embassy staff paid around $10,000 in hotels, The Washington Post reported.
Eric also went to the Dominican Republic for the family business. The full numbers on that aren't available, but Secret Service went there before the trip to scope it out, and hotels for the scoping trip cost $5,470.
Overall, Trump's four-year term is on track to cost more than Obama's entire eight years in office.
Obama's travel costs as president are estimated at $97 million for the eight years.
Based on the last month, Trump's travel cost as president for just four years is predicted to be hundreds of millions of dollars more, according to The Washington Post.
Citations: Trump family's elaborate lifestyle is a 'logistical nightmare' — at taxpayer expense (Washington Post)