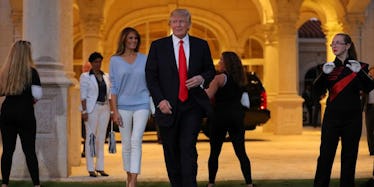 Chart Of Trump's Time Away From DC Explains Why Administration Is In Shambles
REUTERS
Donald Trump has spent nine of his 11 weekends as president at one of his properties, according to The New York Times.
It makes you wonder when he actually has time to work.
So far, there have been 55 days in which he was not at one of his properties, and 22 days in which he visited at least one Trump property.
Trump has spent more time at Mar-a-Lago resort in Florida (the "Winter White House") than any of his other properties.
Every president deserves some down time — they're all human after all.
But, given the fact Trump's costing tax payers a lot of money — and the fact he criticized President Obama for golfing and vacationing — there are fair reasons to point out how much time he's spent away from DC.
It's estimated Trump will cost taxpayers millions more than Obama did in his eight years in office.
According to an analysis from The Washington Post, during the president's first month in office, he spent nearly a quarter of his time at Mar-a-Lago.
In total, Trump has spent seven weekends at Mar-a-Lago since becoming president, and each trip has cost roughly $3.3 million, BBC News reports.
This means Trump has cost taxpayers roughly $23 million on his trips to Mar-a-Lago alone.
On top of this, the fact Melania Trump continues to live in Trump Tower in New York City instead of the White House is also costing taxpayers a significant amount of money — approximately $127,000 to $146,000 a day.
Additionally, Trump has golfed 13 times since becoming president.
This means he's golfed at twice the rate of former President Obama, who golfed a total of 306 times during his presidency, according to Golf Digest.
Trump often criticized Obama for golfing while president, but apparently it's OK when he does.
On Thursday, April 6, Trump will welcome President Xi Jinping of China to his Mar-a-Lago resort.
As he does so, it's worth questioning why the White House seemingly isn't a good enough location for Trump to host foreign leaders.
Citations: Tracking the President's Visits to Trump Properties (The New York Times)