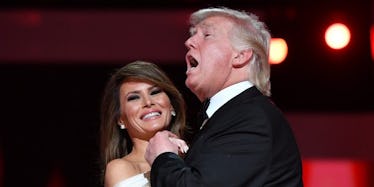 Melania Would Have Been 'Priority' Deportation Under Trump's Order
REX/Shutterstock
President Donald Trump has continuously made a point of condemning undocumented immigration, while conveniently looking over the fact his wife reportedly worked in the US illegally.
In 1996, according to a report from AP, Melania Trump was paid $20,056 for 10 modeling jobs in the US over the course of seven weeks before she had permission to legally work in the US -- she had not yet obtained a work visa.
If an executive order Trump signed in January had been in effect at the time, Melania would've been considered a priority for deportation for immigration officers, Slate reports.
On January 25, Trump signed an executive order calling for the deportation of a number of individuals, including those who've "engaged in fraud or willful misrepresentation in connection with any official matter or application before a governmental agency."
Immigration attorneys told Slate the first lady would've qualified in this regard.
Hasan Shafiqullah, supervising attorney in the immigration law unit at the Legal Aid Society, stated,
If the current executive order on interior enforcement and the related Homeland Security memoranda on interior enforcement had been in effect at that time, then she would have certainly been an enforcement priority.
Cheryl David, an immigration specialist in New York City, added,
[Melania] definitely violated her status, and if it came to immigration's attention, yeah, they certainly could put her into removal proceedings.
According to Slate, Melania would've even been subject to deportation under the law in 1996 if she'd been caught working illegally.
President Trump has made immigration a centerpiece of his political philosophy.
He began his campaign for the presidency by referring to undocumented Mexican immigrants as "drug dealers," "rapists," "killers" and "murderers."
Trump argued they are "destroying" the US and stealing people's jobs.
In reality, native-born Americans are more likely to commit violent crimes and be incarcerated than immigrants.
Moreover, undocumented immigrants often take jobs many Americans would never pursue, and pay billions of dollars in taxes every year.
There are certainly problems with America's economy, but making immigrants scapegoats won't solve them.
Citations: New Immigration Rules Would Have Made 1990s Melania Trump a Deportation Priority (Slate)