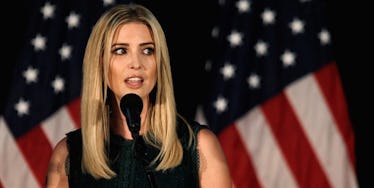 Ivanka Has Super Concerning Reply To If She's 'Complicit' In Trump's Presidency
REUTERS
The president's daughter has responded to criticism about her brought up in a "Saturday Night Live" sketch -- because this is politics in 2017.
However, Ivanka Trump's reply to a question asking if she is "complicit" in her dad's presidency has confused everyone.
It has even led some to believe the first lady daughter doesn't actually know what the word means -- so clearly, she hasn't been keeping up with "SNL."
In an interview with CBS's's Gayle King, her first since Donald Trump became president, Ivanka said,
I don't know what it means to be complicit, but you know, I hope time will prove that I have done a good job and much more importantly that my father's administration is the success that I know it will be.
I mean, she even said herself she doesn't know what it means.
Luckily for Ivanka, she's been given a helping hand by the Merriam-Webster dictionary, who waded into the debate on Twitter and defined it as "helping to commit a crime or do wrong in some way."
In the interview, the newly appointed assistant to the president said,
If being complicit is wanting to, is wanting to be a force for good and to make a positive impact, then I'm complicit. I don't know that the critics who may say that of me, if they found themselves in this very unique and unprecedented situation that I am now in, would do any differently than I am doing.
The interview took place weeks after Scarlett Johansson played Ivanka in an "SNL" sketch advertising her new perfume, "Complicit."
Ivanka regularly speaks out about women's issues, but despite that, she has been criticized for failing to denounce the alleged sexism of the Trump presidency.
Some have labeled her complicit for not intervening with his controversial policies that attack women.
Most recently, eyebrows were raised when she tweeted to celebrate Equal Pay Day just days after the president removed protections for women in the workplace brought in under Barack Obama.
Citations: Ivanka Trump interview: "If being complicit is wanting to be a force for good ... then I'm complicit" (CBS)