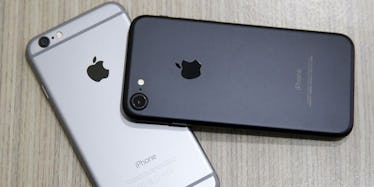 New Concept Photos Show What Your iPhone 8 Might Look Like Without A Home Button
Shutterstock
Throughout the past few months, the internet has been completely flooded with concept photos, prototypes and rumors about the highly-anticipated iPhone 8.
I've personally never witnessed such an obsession over a product that hasn't even been announced or released yet, but I do understand the hype.
If the rumors about the iPhone 8 are true, it seems like we'll have one kick ass device at hand come September (well... hopefully in September).
More concept photos recently hit the web and they're getting us more excited about the upcoming release than ever.
Before I show you the detailed pictures, let's recap on a few key rumors about the iPhone 8's screen.
It's been reported the upcoming iPhone might have an OLED screen that takes up the entire front of the device. Because the screen might take up the whole surface, there have been rumors the home button will disappear and turn into a "function area."
OK,  now that we've covered the basics, let's take a sneak peek at the concept photos.
These photos were designed by people at iDropNews and provide a detailed image of what the iPhone 8 might look like without the home button.
They based their prediction off the Macbook Pro's new OLED Touch Bar where various application controls can be integrated depending on which programs are open on your phone.
Pretty cool, right?
According to iDropNews, the question still remains whether or not Apple will use Touch ID via a fingerprint sensor on the screen.
Along with all the design rumors for the iPhone 8, there have also been a handful of rumors about when the phone will become available.
Thanks to online iPhone chatter, we've been expecting the big release to take place in September. However, it's been reported an Apple analyst believes mass production of the phone will cause it to be pushed back to October or November.
Of course, Apple has not denied or confirmed a release date, so we'll have to stay patient and find out if all the rumors are true once the iPhone 8 announcement is finally made.
Citations: iPhone 8 Function Area: Here's Everything We Know So Far (iDropNews)