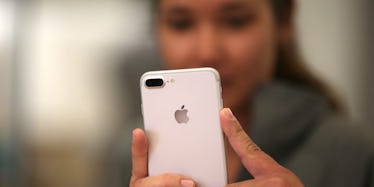 New Leaked iPhone 8 Design Pics Show Unexpected Feature Could Be Added To Model
REUTERS
Another leaked iPhone 8 design has left us all scratching our heads as to what the actual device will look like once it's released in September.
The latest leak features a photo of what appears to be a manufacturing-related design drawing of the iPhone 8, or iPhone X.
According to MacRumors, the drawing first surfaced on the website Slashleaks, and it appears to be on a computer belonging to an Apple manufacturing partner, such as Foxconn.
No one knows for sure when this picture was taken, or if it's even authentic.
It could be just one of over 10 iPhone prototypes Apple has allegedly been testing this year, so the iPhone we see here may not be the iPhone we get come fall.
So, yes, you should definitely interpret this latest rumor with some serious caution for now.
However, the drawing is kind of consistent with recent rumors we've heard about the newest iPhone design.
The image shows a larger display that takes up almost the entire front of the device.
And on the back, the drawing shows a vertically aligned dual camera system, confirming yet another rumor put out in December by Japanese website Mac Otakara.
The back of the iPhone design also shows Touch ID, which would, again, be in line with reports claiming the iPhone 8 won't have a home button on the front.
The leaked drawing also appears to show the iPhone 8 measuring in at 149.5mm tall and 72.5mm wide, compared with the iPhone 7's 138.3mm length and 67.1mm width.
The sides of the iPhone design don't appear to stray from what we know of current versions of the device. You've still got the volume toggles, mute switch, lock button, SIM card tray, Lightning connector, speaker grille and what is probably a faux speaker grille.
Alas, there is still no headphone jack, so we can all continue to mourn that particularly tragic loss.
So, it's hard to say what we should all make of this leak. Apple typically prototypes several different versions of a new iPhone at once, and they'll eventually proceed with the model that's best suited for manufacturing at scale.
For what it's worth, MacRumors says a similar design drawing and a few real-life photos of a device were leaked around this time three years ago. Those leaks apparently ended up being the actual final model of the iPhone 6.
Either way, I will remain unimpressed and underwhelmed until they give me my headphone jack back.
Citations: ALLEGED IPHONE 8 SCHEMATICS SHOWS VERTICAL DUAL CAMERA SETUP AND HOME BUTTON ON THE BACK (Slashleaks), Potential 'iPhone 8' Render Shows Vertical Camera and Rear Touch ID, But Likely One of Several Designs (MacRumors)