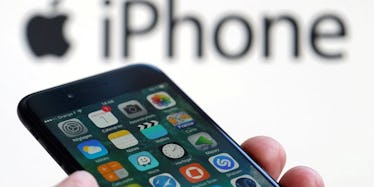 New iPhone 8 Concept Pics Reveal Exactly What Will Replace The Home Button
REUTERS
We've got another iPhone 8 update, adding to the seemingly endless list of rumors surrounding Apple's anxiously awaited new phone.
The Apple iPhone 8 will not have a home button, and will instead have a "function area," according to a report from Apple Insider citing KGI Securities analyst Ming-Chi Kuo.
The function area will have virtual buttons.
Sounds fancy.
The fingerprint recognition technology that currently functions through the home button will be integrated directly into the display, Forbes reports.
This new phone, which will mark the 10th anniversary of the iPhone (some claim it will be called the iPhone X in honor of the occasion), will reportedly have a 5.8-inch display with 5.15 inches of usable screen space.
Long story short, this new iPhone will feature a display that's roughly the size of the iPhone 7 plus but will be small enough for you to hold in one hand and not feel like you're walking around with a tablet in your pocket.
It will also feature an OLED display instead of LCD, which is far more efficient.
So, basically, it sounds like the home button is, more or less, on the screen with the iPhone 8 rather than a physical button you press.
The new phone might also include new biometric technologies like facial or iris recognition.
Sounds like the phone, which many are anxiously awaiting, will definitely be very futuristic.
Given it will apparently cost $1,000 or more -- which is basically one month's rent in a lot of cities -- it better be.
In addition to axing the home button and featuring a larger display, the new iPhone will also reportedly have a much longer battery life and wireless charging.
The release date has not yet been revealed, but most seem to think it will come out in September, based on previous release dates.
Citations: Apple's 'iPhone 8' to replace Touch ID home button with 'function area,' start at $1,000 (Apple Insider)