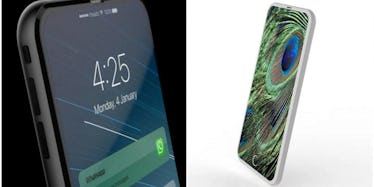 iPhone 8 And 9 May Never Exist, But What Apple Has Planned Next Is Way Better
Thadeu Brandao
Wait: Is there a chance the iPhone 8 will never actually exist?
The latest hot gossip about Apple's next phone suggests the company could actually be in the middle of a major troll job against its fans and customers.
But it's not bad news.
If the iPhone 8 never happens, it means the much-cooler replacement has a better name — and it's all because 2017 marks 10 years since the first-ever iPhone was released.
Rumors suggest Apple might mark the occasion by naming the new phone the iPhone X, in reference to the Roman numeral for 10.
Not only does it sound super cool, it would be a big-time break from tradition for Apple for a few reasons.
Going by the company's recent pattern, September 2017 should witness the release of the iPhone 7S or iPhone 8.
But if Apple calls it the iPhone X instead of iPhone 8, the company could just skip it. Let's be real: No one is living in a world where the iPhone 8 is an updated version of the iPhone X.
Regardless, Apple always keeps these kinds of things annoyingly secret, and this year is no different.
According to The Daily Express, at a quarterly earnings call, CEO Tim Cook said,
I think the smartphone is still in the early innings of the game. I think there's lots more to do. Every year, I think it becomes more important to people's lives; there's more things people are doing with it.
Whatever its name will be, the new device is looking like it's going to be a particularly important one for Apple.
Various graphic designers have released concept artwork of how they believe the phone may look, taking into account rumored features, and the result appears very different from last year's iPhone 7.
The iPhone 8 or X could be the first to feature no physical home button, for instance.
It could also have an all-glass design, an eye scanner and come in three different sizes.
Citations: iPhone 8 - Apple CEO Tim Cook hints there are 'exciting things in the pipeline' (Daily Express)