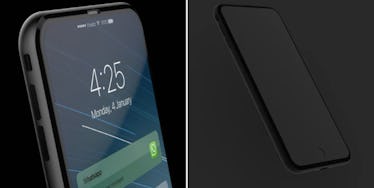 New iPhone 8 Concept Pics Show Bigger Screen Will Totally Change How Notifications Look
If you're dying to find out how the iPhone 8 will look and which features Apple will include, you'll have to wait another seven months.
Apple is frustratingly good at keeping most of their secrets close to its big, fruity chest. So the official announcement every September usually comes with one or two surprises.
But I really, really hope it looks like something like this.
The design of Apple's new wallet-drainer has been imagined by Brazilian graphic designer Thadeu Brandao and is based on rumors about how the new phone will look.
His version is sleek. It's sexy. It's everything your phone should be.
A key feature of the reimagining is a massive screen with a clearer display — and that is in line with gossip about the device.
It also includes a new design for a touch-sensitive home button that can be swiped as well as pressed.
This has also been a rumored feature of the iPhone 8 and has been included in previous concept designs.
Brandao's version would mark a significant change in direction from Apple — whereas the tweaks to the design tend to be fairly minor every year, this would be a big shift.
But I think Apple should go with something like this regardless.
Not only does the display look great, but everything seems less clustered together, too.
Several concept artists have imagined a redesign of the iPhone, and something they all appear to agree on is the iPhone 8 will be something of an overhaul.
And that may need to be the case with Android and Google closing the gap to Apple in the smartphone market.
For the iPhone 8, an upgraded dual-lens camera, augmented reality and a curved screen could all be on the cards.
But until we found out for sure, expect questionable leaks and cool concept designs that raise our hopes.
Your move, Apple.
Citations: Thadeu Brandao