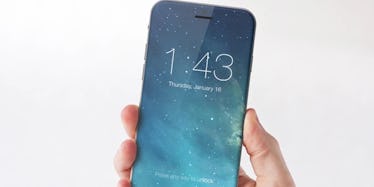 Apple's Epic iPhone 8 Anniversary Edition Will Make You Forget The iPhone 7
YouTube
One of the first people to get their hands on the iPhone 7? Cool, but you should have waited for the iPhone 8.
The hype has barely cooled off from Apple's launch event earlier this month, but we're already hearing whispers about the next generation of iPhone.
Next year marks the 10-year anniversary of the iPhone, and all rumors are pointing to a radical redesign.
In fact, it sounds like the 2017 model is going to be so awesome, the plan is to skip the usual "S" series and go straight for the next number: the iPhone 8.
So, what can we expect from this bad boy?
Speculation surrounds the iPhone's screen. It has long been rumored that future handsets will be one giant screen. By that, I mean the front will be entirely touch technology, with speakers, mic and the menu button all integrated.
It looks sexy.
The extended interface was widely believed to be part of the big reveal for the iPhone 7 around this time last year. Now it looks like Apple has saved the big guns for the iPhone 8.
Another feature to get excited about is wireless charging.
How sure of these rumors can we be?
Well, unfortunately, this concept joins the pile of speculation that can't be proven 100 percent until we see it in person in September 2017.
But you can take pleasure in knowing the wish list for iPhone 7's features (wireless speakers/waterproof/better camera) all came true.