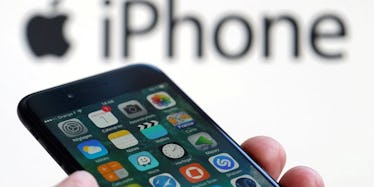 iPhone 8 May Be Released Earlier Than Expected, So Buying The 7 Was A Mistake
REUTERS
Hey, remember when you got your new iPhone 7 last fall and felt super cool?
Hahaha, fool! Prepare to feel uncool all over again!
This is because Apple does this super sneaky thing where it just keeps introducing new versions of the iPhone, so you keep having to get a new one, so Apple keeps making money off you.
Fun, no?
Over the course of the cycle of Apple taking your money, it has to keep the hype going throughout the year so you feel the need to get the new iPhone as soon as it comes out.
So there are all these rumors and leaks and things that come out over the source of the year from Apple fall event to Apple fall event.
The newest rumor is the next version of the iPhone, which would be the iPhone 8, is going to be coming out sooner than previously expected.
Barron's blog is reporting it seems as if the production on Apple is ramping up quickly.
This news is coming from BlueFin Research Partners, a research firm. They are reporting there appears to be an increase in the supply chain coming in June, meaning it looks like Apple will be doing some work in June.
BlueFin wrote,
The most intriguing data points that we have uncovered suggests that AAPL is ramping the next generation iPhones earlier than historical norms, although we have no indication that there has been any change in release plans for the iPhone 8/X.
So to be clear, it looks like Apple (AAPL = Apple) is preparing the new iPhone 8 earlier than usual, but there are no signs that it's actually going to be released earlier than usual.
The new iPhone 8, whenever it comes out, is already looking pretty cool according to other rumors to get you hyped up to give Apple more money.
It looks much sleeker with a big screen. Can't wait!
Citations: Apple Building 'iPhone 8′ Earlier Than Normal, It Would Appear, Says BlueFin (Barrons)