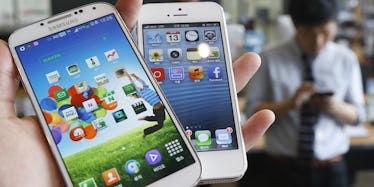 Apple's Latest Samsung Order Confirms Amazing Rumors About New iPhone 8 Screen
REUTERS
Apple has placed a huge order for 70 million OLED panels from Samsung, confirming previous rumors about the new design for the upcoming iPhone 8.
The tall order is meant to meet the expected high demand for the new phone, which will likely feature a major design overhaul, including an edge-to-edge display, glass body and no home button.
The OLED panels will offer brighter displays and better battery life over the liquid crystal displays currently in use, reports Nikkei Asian Review.
David Hsieh, senior director at research company IHS Markit, said Samsung will be the sole supplier to Apple, as it has the most advanced technologies in this area.
He added,
It is also possible that some of these 70 million handsets will not be shipped to customers this year and be carried over to next year depending on demand.
According to CNBC, analysts in the field are estimating the cost of the iPhone 8 to be between $900 and $1,000.
Yikes.
However, if you're as broke as I am, the anniversary edition iPhone 8 won't be your only option for a new Apple phone in 2017.
The tech giant is expected to launch a total of three new iPhones by the end of the year, with the iPhone 8 rumored to be the most expensive model, as that version will include a slightly curved 5.2-inch OLED screen.
The other two models, however, will feature the more familiar LCD displays, and are therefore likely to be more affordable.
All three iPhones will include wireless charging functionality and waterproofing, reports MacRumors. At least one model, presumably the OLED iPhone, will have a 3D sensor to support facial recognition.
Wow. The future is freaking here, you guys.
Despite the enormous order for the new OLED panels, experts have said there's still probably going to be a shortage for the iPhone 8, as the device generally requires a much more complex manufacturing process.
But, hey, good things come to those who wait. Some of the other rumored features for the new model include camera improvements, a more efficient A11 processor, touch ID built into the display, True Tone ambient light adjustment and maybe even augmented reality functionality enabled through the camera.
Don't you worry - September will be here before you know it.
Citations: Apple Places Order for 70 Million OLED iPhone Panels From Samsung (MacRumors), Apple has ordered 70m units of OLED panels: sources (Nikkei Asian Review), Apple has reportedly ordered 70 million OLED panels from rival Samsung for upcoming iPhone 8 (CNBC)