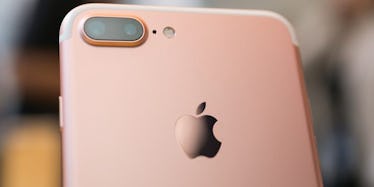 Apple Might Announce The iPhone 8 Soon, According To This Hopeful Rumor
Shutterstock
Guys, it's finally happening.
If the rumors are true, Apple might be announcing the highly-anticipated iPhone 8 much sooner than we thought. (Go ahead, do a happy dance. We've been waiting for this moment for quite a long time.)
The glorious news comes as a huge surprise, because recent rumors claimed the iPhone wouldn't even be released in September like we thought it would be.
Thanks to a JPMorgan analyst with an optimistic outlook, Apple might be announcing the phone in June.
Unfortunately, this prediction is highly unlikely and comes with very little information to back it up -- but we're still excited.
According to 9To5 Mac, JPMorgan recently released an analyst report for Apple where they talked about a "high likelihood" the device would be announced next month.
They believe the device will be announced in June at Apple's 2017 World Wide Developers Conference (WWDC), with a release this fall like we've been expecting.
Don't get too excited, though.
JPMorgan didn't provide many details to support their claim and there isn't much information on their part to justify their prediction.
However, they did admit that investors should expect a dip in iPhone sales this summer while buyers wait until the fall to purchase their shiny new iPhones.
So... that gives us some hope, right?
Apparently, Apple hasn't announced a new iPhone at the World Wide Developers Conference since 2010 when Steve Jobs gave the iPhone 4 its big debut.
Since then, Apple has continuously been launching their iPhones in the fall (with the exception of the iPhone 4), according to 9To5 Mac.
Let's hope the pattern continues so we can finally hold a brand new iPhone 8 come September.
But I suppose we'll have to wait until June to find out if Apple is truly going to announce their new device -- so sit tight, everyone.
Patience is a virtue, especially when it comes to the iPhone 8.