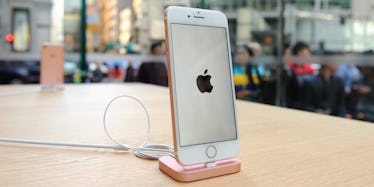 New Model Of iPhone 8 Based On Rumors Will Take You Right Back To 2007
Shutterstock
A man who prides himself on building iPhone models based on Apple rumors assembled his own version of the iPhone 8, and it's a total throwback.
As you probably know, there have been tons of leaks about the highly-anticipated iPhone 8 lately. Antsy Apple-lovers have predicted everything from the phone's appearance to the cool new features it'll have when it's released.
Benjamin Geskin, a tech-savvy designer, took these leaks into consideration and built his own prototype of the phone.
He called his creation the "iPhone 8 Dummy" and shared pictures of the device on his social media accounts over the weekend.
Needless to say, the phone he built looks a little familiar.
Geskin's device -- which is hollow and inactive -- accurately represents iPhone 8 rumors that've surfaced so far, such as the edge-to-edge glass body, the large screen and the lack-of home button.
However, the slightly-curved back of the model makes the mock-device look similar to the original iPhone that Apple released back in 2007.
What goes around, comes around... right?
If Geskin's predictions are correct, it looks like the iPhone 8 will have a slightly "vintage" appearance, but I suppose we won't find out for sure until it's released in September.
Other predictions Geskin portrayed in his model include a vertical camera on the back of the phone and a fingerprint sensor within the OLED screen.
Geskin even mapped out a blueprint to show his followers how he built the device.
(He also tagged the phone #sexy, because iPhones are obviously sexy.)
To make the phone appear even "sexier," Geskin shared his prediction that the phone's frame will be made of polished stainless steel.
I hope this phone is as sexy as he's making it out to be.
After knowing about Geskin's predictions and seeing his prototype, we're totally excited for the release in Fall 2017.
But based off the leaked price of the iPhone 8, it looks like we'll have to start saving right now.
Citations: This iPhone 8 'dummy model' is a total throwback to the first iPhone (Mashable)