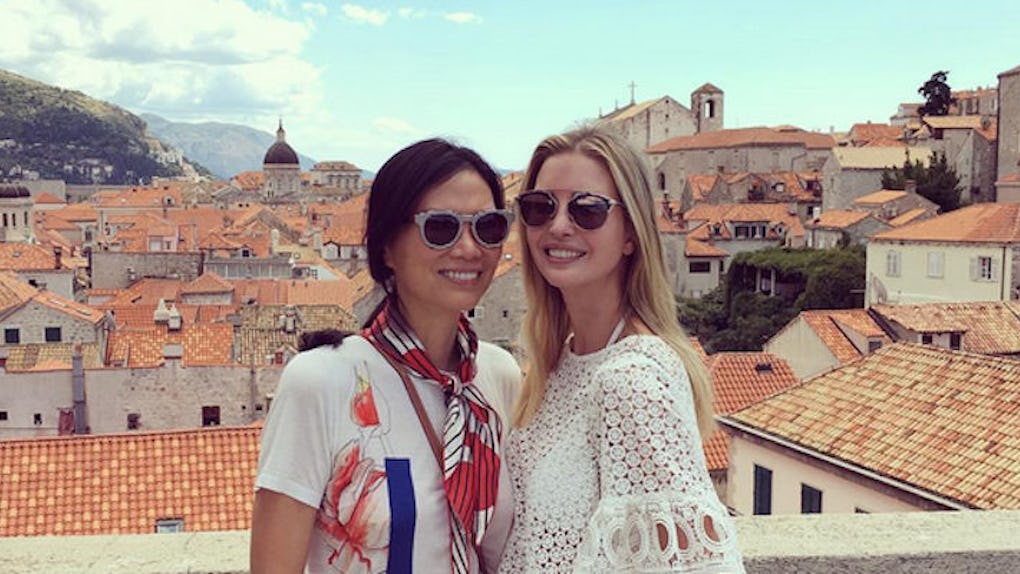 Instagram
Ivanka's Latest Instagram Proves The Trumps Are Closer To Putin Than We Think
Donald Trump's daughter, Ivanka Trump, added further evidence to an already tall pile of claims from many of his opponents there are political ties between him and Russian President Vladimir Putin.
Yesterday, Ivanka posted the photograph below on Instagram, taken during her vacation in Croatia. She is seen with Wendi Deng Murdoch, ex-wife of Rupert Murdoch, and (drum roll) rumored girlfriend of none other than Vladimir Putin.
Putin and Deng were both divorced in 2014 and 2013, respectively, and since then, reports of them dating have abounded.
This is Murdoch and Deng in 2013.
Yeah, I know, it's hard to believe a couple who looked that in love could split up just a year later!
Here is what I imagine Wendy Deng's Tinder bio would look like:
I like long walks on the beach, Zach Braff movies, popcorn, oh, and old, bald, ethically brutal corporate oligarchs who can control the media.
So to be clear, amid the repeated accusations of Donald Trump having a dangerous connection with Vladimir Putin, Trump's daughter went sightseeing with Putin's alleged girlfriend, which, let's just say, does not look good.
And yes, I know this is basically the equivalent of gossip magazine-level reporting (headline idea: IVANKA TRUMP PUTIN DAD IN HOT WATER), but what if this was that last piece of the puzzle we all ignored that proved Donald Trump was secretly coordinating with Vladimir Putin to win the presidential election?
I know it's not tremendously likely, but there is certainly something fishy going on between the two -- and I use this word extremely carefully -- assholes.
And considering Trump's public praising of Putin, along with his long track record of doing and saying whatever he wants -- including, just as a refresher, encouraging a foreign power to hack into the US government, and, many people believe, suggesting his followers assassinate a presidential candidate -- I'd say my threshold for conspiracy theories regarding the man is getting pretty high.
Citations: Russian President Vladimir Putin denies ever calling Donald Trump 'brilliant' - though says the Republican is 'bright' (Daily Mail), Rupert Murdoch's Ex-Wife Wendi Deng Is Dating Vladimir Putin (Us Weekly), Is Vladimir Putin Getting It On With The Ex Of One Of The World's Wealthiest Men? (BroBible)