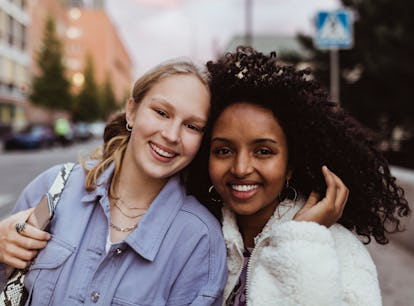 The May 2023 Black Moon Will Affect These 4 Zodiac Signs Most
The main character energy is real.
Maskot/Maskot/Getty Images
Taurus season has been everything but chill this year, in large part due to a very tumultuous Mercury retrograde and eclipse season. You probably haven't had the luxury of leaning into the tangible, satisfying side of life to the fullest extent in recent weeks — but things are about to change. As the season that prioritizes comfort, pleasure, and long-term security comes to an end, the May 2023 Black Moon will encourage four zodiac signs to shift their full focus to reliable, pleasure-seeking endeavors.
A Black Moon has multiple different meanings, but this month's lunation is considered to be a seasonal Black Moon. This means that there are four new moons happening this spring season, which is something that only happens once every 33 months.
When Is The 2023 Black Moon?
Taking place on May 19 in the fixed earth sign of Taurus, the Black Moon will affect fixed signs more than others. Ruled by Venus, Taurus is a sign that seeks pleasure through indulgences — money, food, intimacy, and nourishment — so this group of signs will be turning their attention toward those entities.
Here's how Taurus, Leo, Scorpio, and Aquarius can expect to be impacted by May's Black Moon:
Taurus Zodiac Signs(April 20 - May 21)
On May 19, the sun and moon will conjoin in your first house, illuminating your instinctive nature and desires. It's been a hectic season, Taurus, but fortunately, this new moon is an opportunity for you to realign with what really matters to you. Use this as a day to prioritize your pleasure in whatever way you see fit — take yourself to a nice dinner, splurge on a new clothing item, or spend time with someone that makes you feel safe and content. You're the main character today, so be sure to make it all about you and your needs.
Leo Zodiac Signs (July 20 - Aug. 21)
This month, the Taurus new moon bring forth new beginnings in your career and professional world that highlight your desire for satisfaction and stability. When it comes to your work, you're less interested in being the center of attention, and more focused on how you can build something long-lasting. Now is the perfect time to embark on a new professional path that validates and stabilizes your efforts, while still leaving you feeling fulfilled.
Scorpio Zodiac Signs (Oct. 21 - Nov. 22)
As the sun and moon conjoin in Taurus this month, your focus will shift to your romantic relationships and partnerships. You're turning over a new leaf in love, Scorpio, and this lunation is an opportunity to lean into the comfort and stability that your connections with other people provide. Allow yourself to indulge in intimate moments with others now — it will definitely feel rewarding.
Aquarius Zodiac Signs (Jan. 19 - Feb. 20)
On May 19, the sun and moon will bring new beginnings to your home and family life that center around comfort, pleasure, and stability. You're someone who relies heavily on a satisfying environment at home, and this new moon is an opportunity to re-center your desires in this area. Whether you're relocating, connecting with a relative, or hosting a housewarming, this is the perfect day to spend relaxing in the comfort of your natural habitat.