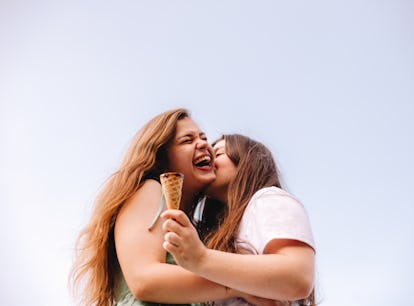 How The May 2023 Black Moon Will Affect Your Zodiac Sign
The password is: indulgence.
Cavan Images/Cavan/Getty Images
I hope you're ready to relax to the max, because May's upcoming black moon is bringing nothing but the chillest vibes. And to be honest, the timing couldn't be any more perfect, especially after a *very* hectic Mercury retrograde and eclipse season. Taurus season is normally a time where leaning into comfort and relaxation is effortless, but this year, what was once reliable and consistent has been up in the air. However, now that Mercury's moving forward again and eclipse season has ended (for now), the upcoming May 2023 black moon is restoring every zodiac sign's desire for pleasure and satisfaction.
As the sun and moon conjoin in the fixed earth sign of Taurus this month, every zodiac sign will be encouraged to shift their focus to incorporating sensuality, gratification, and indulgences into their world. Ruled by Venus, May's black moon is all about saying yes to your desires without feeling the need to hold back. You deserve to enjoy the finer things in life, and after an intense Scorpio eclipse, it's officially time to treat yourself after relinquishing fear, lack, and scarcity. Since the upcoming new moon is ruled by Venus in Cancer, every sign is being called to tap into their intuitive desires. What is your gut telling you that you're in need of? It could be as simple as a home-cooked meal, reading your favorite book, or watching a comfort show. However you choose to center your needs, you'll be encouraged to let your feelings guide you.
What Is A Black Moon?
On May 19 at 11:53 AM EST, the sun and moon will conjoin at 28 degrees of Taurus, creating what's referred to as a black moon. There are three different ways a black moon can occur, and this month's black moon in particular is referred to as a seasonal black moon. This only takes place when there's an extra full moon in a season — something that only happens once every 33 months. While this lunation will be invisible, it's an ideal time to set intentions and do manifestation work — especially since the moon is exalted (AKA, very happy) in Taurus.
Here's what every sign can expect during the May 2023 black moon:
Aries (March 20 - April 20)
New beginnings are unfolding in your second house of money and resources, Aries, and in the best of ways. When it comes to your possessions, you seek plenty of consistency and comfort — and as the sun and moon conjoin in Taurus this month, you'll be setting out on a new beginning in this area. You may find yourself making a luxurious purchase, or securing additional, long-term resources that will sustain you. Be sure to lean into the tangible side of life now, Aries, because it's bound to bring you plenty of satisfaction.
Taurus (April 20 - May 21)
On May 19, you'll experienced a renewal around your identity and self-expression as the new moon unfolds. This lunation is centering your needs in a way that's pleasant and gratifying, Taurus, so be sure to treat yourself today. As someone who prioritizes indulging on a regular basis, this new moon will only amplify your desire to enjoy the palpable sides of life. Go get your nails done, or take yourself out to a nice dinner — anything that allows you to prioritize your own satisfaction.
Gemini (May 21 - June 21)
This month, the ways you isolate and recharge is experiencing a moment of renewal as the new moon takes place. While this energy is much slower and relaxed than what you're typically comfortable with, it's giving you an opportunity to take it easy and lean into relaxation. This is a day to be a little anti-social, Gemini —- the perfect time to get some rest before your own season begins.
Cancer (June 21 - July 19)
On May 19, the sun and moon will conjoin in Taurus, initiating new beginnings in your friendships and social groups. You seek plenty of security and satisfaction through your connections with others, and this new moon is an opportunity to lean into the relationships that make you feel the most at ease. Today could mark the start of a budding new connection, or it could be a time to socialize with a long-term friend. Either way, you'll be encouraged to mingle with others today.
Leo (July 19 - Aug. 21)
As the the sun and moon conjoin in Taurus on May 19, new beginnings will start to unfold in your career and professional world that center your pleasure and contentment. It's important for your work to feel gratifying and pleasurable, Leo, and this new moon is the perfect time to consider how you can lean into the satisfaction that comes with your public persona. Now is a time to set your sights on a new business venture or creative pursuit at work — anything that allows you to find enjoyment from your career.
Virgo (Aug. 21 - Sept. 22)
On May 19, the new moon in Taurus will ignite peaceful new beginnings around your current belief systems and world views. This is a time to turn over a new leaf, Virgo, particularly when it comes to your perspectives. If you've been eager to take a new study seriously or book a trip abroad, now is an opportunity to do so. You're always seeking new ways to be enlightened, and this new moon is your moment to commit to a satisfying new way of life.
Libra (Sept. 22 - Oct. 21)
This month, as the sun and moon conjoin in the pleasure-focused sign of Taurus, new beginnings will begin to unfold in your shared resources and assets. You may find yourself investing in a large purchase, or setting yourself up for long-term security in the future through opening a new bank account or retirement plan. This may also be a time to split responsibilities with a significant other who's interested in building a foundation with you that stands the test of time — planning for the future just became way more enjoyable.
Scorpio (Oct. 21 - Nov. 22)
As the sun and moon conjoin in Taurus, your romantic relationships will experience a new beginning centered around sustained pleasure and contentment. After a hectic April, this new moon is allowing you to turn over a new leaf in your partnerships that highlights stable, intimate connections. Now is the time to lean into your relationships with others, Scorpio — trust me, they're more than capable of handling the weight.
Sagittarius (Nov. 22 - Dec. 19)
Your habits and routines are replenishing on May 19, as the Taurus new moon takes place. Consider how the practices you indulge in daily are sustaining you, Sagittarius, and if they're in need of some adjustments, feel free to do that now. Regimens are meant to be enjoyable, so be sure to infuse your daily life with moments of pleasure, no matter how small these moments may be. Allow yourself to indulge in your favorite food, or throw on your most comfortable PJs after a long day — anything that makes life a little sweeter.
Capricorn (Dec. 19 - Jan. 20)
On May 19, the sun and moon will conjoin in Taurus, bringing new beginnings around how you experience joy and pleasure to the forefront. This new moon is an opportunity to prioritize your satisfaction without having to work for it, Capricorn — so feel free to treat yourself in any way you please. Go on a date, sign up for a cooking class, or go to a wine tasting. Anything that prioritizes satisfaction and reduces your stress.
Aquarius (Jan. 20 - Feb. 19)
As the sun and moon meet up in the comfort-focused sign of Taurus this month, you'll be igniting new beginnings in your home and family life that center your pleasure and contentment. This may be a moment to consider how you can increase the level of satisfaction you experience behind closed doors, prompting a potential change in residence or a shift in dynamic with a relative. Either way, it's an ideal day to spend time relaxing in your natural habitat surrounded by people you feel most at home with.
Pisces (Feb. 19 - March 20)
This month, the Taurus new moon is ushering in new ideas, opinions, and perspectives into your world that prioritize your personal pleasure. You're someone who deeply enjoys sharing knowledge with those around you, and on this day, you'll be prompted to engage in discussions that are simple, easy and gratifying. You may also feel inclined to embark on a new study or practice today, Pisces — anything that not only piques your interest, but allows you to relax and decenter stress.