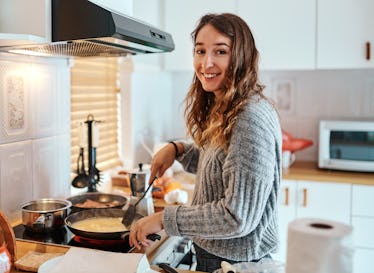 TikTok's Viral Pesto Eggs Recipe Makes An Eggcellent Avocado Toast Upgrade
katleho Seisa/E+/Getty Images
The next time someone asks you how you would like your eggs cooked, you might want to say, "Pestoed!" The latest viral food trend to take over TikTok is comprised of eggs cooked in pesto sauce, and it looks eggs-tra delicious. If you haven't seen this tasty dish pop up on your "For You" page, you might be wondering how to make TikTok's pesto eggs — and the answer is really quite simple.
The recipe only requires two main ingredients that you could probably guess for yourself: pesto and eggs. By frying up your eggs in pesto sauce rather than your typical cooking oil, you get this flavorful way of eating eggs that TikTokers are putting on things like avocado toast and burgers. Some users are even getting creative with this pesto egg hack by making stuffed pesto egg peppers and pesto eggs on waffles. The flavor combo is so great that you'll be wanting to put pesto eggs on everything yourself.
If you're a big fan of pesto, try out this pesto egg hack from TikTok. You just need to decide on which dish to try first. Any of these nine pesto egg dishes on TikTok are great place to start. Just don't forget to snap a good foodie pic or TikTok video of your dish, so you can im-pesto all of your friends.