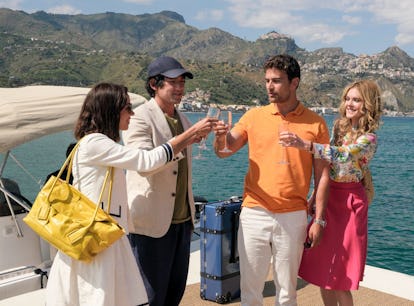 Every Zodiac Sign Has A 'White Lotus' Character That Goes With It
Because we can't all be Daphne.
HBO Max
If Season 2 of White Lotus didn't convince you to impulsively book a trip to Sicily, you either have incredible self-control, or you just haven't watched the newest installment of the HBO Max series yet. Personally, the newest season of the dark comedy definitely sold me on booking a lavish trip to Italy with a couple of my closest frenemies. While Tanya is the character who might be the most iconic, others on the series also had their moments — causing me, an astrologer, to consider which character aligns the most with the signs of the zodiac. Whether you related to Albie's innocence or Mia's mischief, there's a character in White Lotus for everybody — and their zodiac signs couldn't offer more insight into their morals. Or, uh, lack thereof.
As we were introduced to Season 2's new characters (aside from Tanya and her sketchy husband), there were a plethora of new energies to get a feel for. Despite the chaos that each character was a part of, they all still resembled a specific astrological archetype — and by matching your zodiac sign with theirs, you may be able to relate. If you're curious to know which of the character's personalities align with yours, look no further. Here's the White Lotus character you are, according to your zodiac sign. Warning: Spoilers ahead. Cue the catchy theme song:
Aries: You're Lucia
As someone who always has their eye on the prize, it comes as no surprise that Lucia gives off major Aries energy. Throughout the season, she usually had her own best interest at heart, and when she plays a game, she plays to win. While her moral compass may have a few cracks in it, I can't help but admire her for putting together such an elaborate plan to swindle Albie out of a very large sum of money. Just like you, she always came out on top.
Taurus: You're Quentin
Quentin's the boujie uncle everyone wishes they had — minus the lying and scamming, of course. While I'm disappointed we never got to know exactly how he and Greg were linked, I can still appreciate him for his incredible fashion sense, lavish boats, and knack for for home decor. As a Taurus, you're someone who has impeccable taste, and despite his shortcomings, Quentin was by far the most stylish person of the season. He also was determined to secure financial stability, which is something you can probably relate to (even if you wouldn't go as far as attempting to kill a wealthy heiress).
Gemini: You're Jack
Charming and unpredictable, Jack's personality resembles Gemini in more ways than one. Not only is he funny and a great conversationalist, he played the role of Quentin's fake nephew almost too well. As a Gemini, your mutable, air sign nature has no issue being flexible, and going with the flow is something you can do with ease. You're always up for a good time, no matter how short-lived it may be — but you can also be quick to change sides, just to keep things interesting.
Cancer: You're Albie
Sweet, innocent Albie. As the most family-oriented character from Season 2, it wasn't easy to see him get played by Lucia, but karma was bound to catch up to the Di Grasso men eventually. As a Cancer, you're always looking to find the best in people, even if it means ignoring your gut. But when you listen to it, your intuition is your biggest superpower and can prevent you from getting into situations that cause people to take advantage of your kindness. Albie knew from the beginning that something was fishy, but he ignored it. The good news is, his dad was ultimately the only one who had to pay for his mistake (rightfully so).
Leo: You're Cameron
If the leopard-print shirt wasn't a dead giveaway, Cameron is *obviously* a Leo. Confident and charismatic, he was the only person among Daphne, Ethan, and Harper whose self-assurance never wavered. But he's also so wrapped up in his own scheming that he hardly notices his own wife's secrets. As a Leo, you light up a room with your warmth, and your ability to be the life of any party never goes unnoticed. To be honest, while Cameron's decisions were definitely questionable, the trip wouldn't have been as enjoyable without him.
Virgo: You're Ethan
While Ethan's jealousy got the best of him near the end of the series, he was the most book-smart member of the group. In fact, he was so known for his brains that Cameron may have underestimated him. As a Virgo, you're a practical thinker, and you rarely make rash, impulsive decisions without thinking them through. Since you're always eager to be in the know, however, you may find yourself constantly seeking out information — sometimes to a fault. The desire to know every detail of Harper and Cameron's encounter definitely came back to bite him in the end.
Libra: You're Daphne
Social and friendly, Daphne gives off major Libra vibes. She was eager to become friends with Harper despite her advances being mostly rejected. She also seems to be incredibly partnership-oriented (even if she is having an affair with her trainer). As a Libra, you're always interested in making new connections, and that's something Daphne seems to do with ease. As a Venusian, you also have a knack for fashion and aesthetics, and Daphne's wardrobe definitely seemed influenced by this cardinal, air sign.
Scorpio: You're Harper
Harper was definitely the member of the group who struggled to open up initially, which aligns her with the sign of Scorpio. As a fixed, water sign, you tend to come off cautious and skeptical at first, and usually it's because your intuition is sending you important warning signs. While Harper's instinct was right, she also had a hard time moving on and enjoying the remainder of the trip, which is definitely a fixed sign trait. By the end of the season, however, her own secrets appeared to benefit her relationship with Ethan.
Sagittarius: You're Mia
While Mia may have initially seemed to only be along for the ride, she definitely learned a thing or two from Lucia and carved out a path of her own. Her free-spirited nature prompted her to do whatever it takes to become hired as the new singer at the hotel, and despite drugging a man, she came out on top. As a Sagittarius, you're known for your optimistic mindset, which is something Mia held on to the entire season, no matter how bleak things may have looked. You're always down for an adventure, and while it may not be as chaotic as Mia's, you're willing to try almost anything once.
Capricorn: You're Valentina
Valentina was by far the only character who cared about structure and maintaining order in the hotel, even if she did ultimately fail at keeping Lucia and Mia from mingling with the guests. As a Capricorn, you're a stickler for tradition and following the rules. While it's not always fun, it's bound to lead to success: Valentina was a bit uptight at first, but eventually loosened up near the end of the season, despite her choices being a little questionable. As the disciplined sign of the zodiac, it's important to know when to buckle down, and when to let your hair down.
Aquarius: You're Portia
The fashion choices were a pretty clear indicator that Portia fits the mold of Aquarius. As a fixed, air sign, you prefer to march to the beat of your own drum, even if others are trying to exercise control over you. While she may have rebelled a little too close to the sun, she got the Italian vacation she sought — one that allowed her to be as far away from her boss as possible.
Pisces: You're Tanya
Tanya's emotional nature and idealistic worldview aligns her with the sign of Pisces. While you may sometimes appear aloof, you tend to be wise beyond your years, because of your keen intuition. Need I remind you that Tanya's findings about Quentin and Jack were not only right, but also that she was able to save herself (before unintentionally contributing to her own demise, of course)? Your ability to see the best in others causes people from all walks of life to gravitate your way. But, it's essential to trust the vibes you get from them the first time in order to avoid being played in the end.
Season 2 of The White Lotus is now streaming on HBO Max.