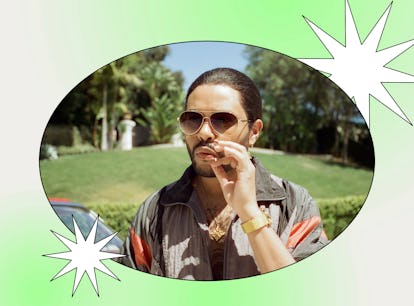 This Idol Filming Location Is *So* Close To Home For The Weeknd
The work-life balance is getting blurred a bit.
Eddy Chen/HBO/Elite Daily
Since its premiere, HBO's The Idol has garnered both genuine fans and viewers who hate-watch the series starring Abel "The Weeknd" Tesfaye. While the show may not be as critically acclaimed as Sam Levinson's other HBO series, Euphoria, it is the talk of Twitter. Topics like Tesfaye's cringe-fueling dirty talk to Jennie from BLACKPINK's villain twist can be seen all over the feed, but something fans may not know is that one of The Idol filming locations has a celeb connection.
As creator and one of the executive producers of The Idol, Tesfaye, who plays cult leader Tedros, contributed a lot to the project, even using his Bel-Air home as Jocelyn's mansion in the series. According to Architectural Digest, switching from original showrunner Amy Seimetz to putting Levinson in charge was a bit pricey. To "fit Levinson's plan," production decided to save some money by filming in The Weeknd's $70 million mansion. It's the first location you see in Episode 1 of The Idol, when Jocelyn, played by Lily-Rose Depp, is having a photoshoot in her home.
Deciding on using Tesfaye's IRL mansion came after the singer invited Levinson over to discuss the changes that needed to be made regarding reshoots. Levinson told W, "If we were going to reshoot from the beginning, I knew it had to be for less money. Sitting in Abel's house, looking around at the 40,000 square feet, I said, 'It's stunning here — you can't buy production design like this. What if we shoot it here?'" After confirming that the series had good insurance, Tesfaye agreed to allowing production into his personal space.
Inside The Weeknd's Bel-Air Mansion
A real-life pop-star's mansion is the perfect place for a fictional one. For example, The Weeknd's home has everything that Jocelyn would have, like an at-home music studio. In Episode 2 of The Idol, Jocelyn even brags to new character Chloe that there are two pools, which is also true. The Weeknd's home has both an indoor pool as well as an outdoor infinity pool with a waterfall.
The artwork that can be seen behind Jocelyn in the first shot of The Idol is the same that is hanging in The Weeknd's living room. Even the Prince photo that Tedros comments on in Episode 2 is The Weeknd's actual framed photo of the "When Doves Cry" singer. It was once hanging in his Beverly Hills penthouse apartment, and makes you wonder if the whole Prince bit that bonds Jocelyn and Tedros was added into the script later because of the photo in Tesfaye's home. It's possible that other details in The Weeknd's house will become plot points in The Idol later on this season. Even if they aren't, it'll just be exciting to get a glimpse into his home, like fans got to see Miley Cyrus' mansion in her "Flowers" music video.
Another filming location coming up in the season also has a tie to The Weeknd. Saving money once again, The Idol used The Weeknd's concert at SoFi Stadium in Los Angeles last September to film a scene where Depp in character as Jocelyn gave a speech to the confused crowd.
Since Tesfaye's character is the leader of a cult, it's looking like Jocelyn's mansion may become a homebase, which means we'll see more of his Bel-Air home as the season goes on. One already memorable scene was when Tedros first visits, and he's seen creepily standing at Jocelyn's gate. When asked about this scene, The Weeknd shared with GQ that it was supposed to be ominous, saying, "Yeah, that's all intentional to heighten the camp of it all." So, basically The Idol is like an episode of MTV Cribs, but with more camp and cringe to come.