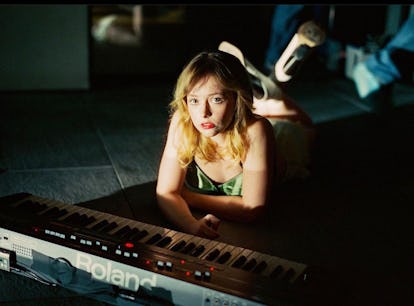 Here's Why You Might Recognize This New Enigmatic Character From The Idol
This isn't her first role.
HBO
In HBO's The Idol, viewers are encouraged to root for Jocelyn (Lily-Rose Depp), a pop star whose teasing a sonic comeback. While Jocelyn's the main talent, there's other characters flaunting their villain arc — ahem, her frenemie Dyanne — and looking to steal her shine. The series recently introduced a new character named Chloe, and some may recognize her from her actors' real-life rise to fame. It's not clear whether she's looking to dim Jocelyn's spotlight. But this is Hollywood, where seemingly no one can be trusted. Here's what to know.
Warning: Spoilers for Episode 2 of The Idol follow. In the series' second episode, viewers are offered a deeper glimpse into Jocelyn's mental health following her mother's death. Nearly a year before the singer's comeback, her mom-ager died of cancer, and resulted in Jocelyn having a mental breakdown. After a eight month break, Jocelyn's back to claim her status as the pop It-girl; however, it's clear she needed a longer hiatus from the spotlight. This reality glimmers in her chaotic music video shoot for "World Class Sinner," where she pushes herself to the brink to create the "perfect scene."
In order to forget the shoot, she calls up her new cult leader beau Tedros, played by Abel "The Weeknd" Tesfaye. Jocelyn invites him over for some fun, and he arrives with his own entourage of aspiring singers Izaak (Moses Sumney) and new member Chloe, played by Suzanna Son.
Some viewers were already interested in Chloe, as she's a fresh face in the midst of mysterious, ill-written characters. Though new, she's just as odd as everyone in Tedros' erotic cult. Within seconds of her arrival, Chloe stripped naked and went skinny-dipping in Jocelyn's pool; paraded around her home in the nude; slipped into Jocelyn's closet to try on her clothes; and then watched Tedros and Jocelyn have sex. Yeah, it's... a lot. However, watchers' interest in Chloe peaked towards the episode's ending, where she flexed her vocal chops in a stripped down performance of "Family."
From Chloe's broken wail in her tone to her slick piano work, fans were intrigued to know more about the woman who portrays her. It appears Suzanna was meant for this role, as she's something of a rising star herself. The actor made her breakout in Sean Baker's 2021 film Red Rocket, which similarly involves seedy and unhinged characters who have a penchant for sex. Specifically, Suzanne plays a 17-year-old donut shop worker who falls for a former porn star named Mikey Saber (Simon Rex) visiting his hometown in Texas.
Before this role, Suzanna was an aspiring singer that briefly shared covers on YouTube. Then, in 2018, she scored her Red Rocket appearance in the most unconventional, Hollywood way possible. While leaving a screening of Gus Van Sant's Don't Worry, He Won't Get Far on Foot, she met Baker outside the theatre. Piqued, the director gave Suzanna his contact information and encouraged her to audition for Red Rocket, which was in the works at the time. She took his word; however, it would take nearly three years after their introduction for Baker to call her back.
"I couldn't think straight. I was too excited. I couldn't believe it," Suzanna told W Magazine about her role in the film. "[Baker] told me it would be like a guerrilla film. Very small, not a big deal. And then we premiered at Cannes."
Shortly after Red Rocket released, Suzanna joined The Idol as Chloe. In April 2022, Deadline reported the singer-actor was one of many cast members expected not to return to the series. Around that time, The Idol's creative direction went through various changes, including the replacement of original co-producer Amy Seimetz with Sam Levinson. However, despite the creative overhaul, Suzanna remained in the series and made her debut in episode two.
With Chloe's sonic launch on The Idol, one thing's for certain: Jocelyn certainly has some competition.