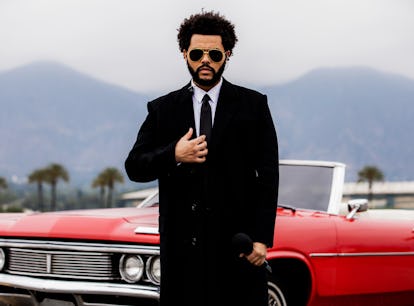 The Weeknd Calls Controversial Allegations About The Idol "Ridiculous"
According to the singer, there's no drama.
Rich Fury/Getty Images Entertainment/Getty Images
For a show that hasn't officially premiered, The Idol has quite the buzz. The upcoming HBO series, helmed by The Weeknd and Euphoria's Sam Levinson, first caught social media's attention with its ominous plot— an aspiring pop star falls in love with a brooding, yet charismatic club owner and cult leader. However, as teasers for the show released this year, drama ensued. All eyes shifted to the Rolling Stone, who reported numerous controversial allegations against the show's production in March. The Weeknd (now rebranded to his real name, Abel Tesfaye) shared his thoughts on the matter that same month. Now, he's doubling down on his response.
On May 16, The Weeknd talked about the Rolling Stone report in a profile for Vanity Fair's June issue. "I thought the article was ridiculous. I wanted to give a ridiculous response to it," he said, referring to his cryptic tweet he posted in March as a dig to the story.
The RS report alleged the behind-the-scenes production of the show had taken a grim turn. Sourcing 13 unnamed members of The Idol's cast and crew, one source alleged Sam Levinson added several intense sex scenes that read like "torture porn" to the script. As a result, these additions allegedly caused more rewrites and reshoots. Elsewhere, another member detailed the series' storyline went from "a dark satire of fame and the fame model" to "the thing it was satirizing."
The article also claimed The Weeknd axed the original version of the show that was less centered around his character, and that tensions rose with co-producer Amy Seimetz, who left The Idol during its early production process.
In response to these troubling claims, The Weeknd posted a scene from The Idol on Twitter. In the video, his character Tedros turns down a publicist (played by Dan Levy) when he offers a Rolling Stone cover to Lily-Rose Depp's pop star persona, Jocelyn. "Rolling Stone? Aren't they a little irrelevant," Tedros scoffs, further insinuating the publication would reap more benefits from a potential cover than Jocelyn would. The Weeknd then captioned the shady tweet, "@RollingStone did we upset you?"
In another clap back, The Weeknd also skipped over his Rolling Stone shoutout lyric in "Heartless" during his Coachella performance with Metro Boomin.
In the Vanity Fair interview, the Kiss Land singer cleared up the drama rumors concerning Seimetz. "I actually really loved working with Amy," he said, "and I'm sure she's reading all this being like, 'Why am I being thrown into this?'" As for the constant reshoots, Vanity Fair noted that "logistical difficulties with Seimetz's schedule, production timelines," and the singer's "desire to not rush his first show" was the cause.
"Shows get reshot every day … What are you gonna do?" The Weeknd curtly said. "These are the trials and tribulations of it, and that's what the show is about."