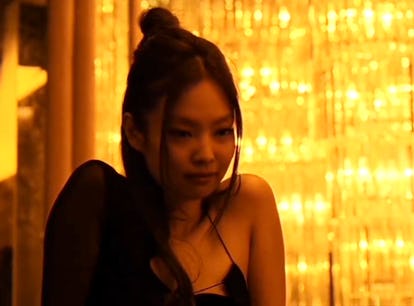 BLINKs Are So Here For Jennie's Villain Era On The Idol
Her bad-guy twist actually made her a hero to fans.
Jennie is done playing nice. The BLACKPINK star had everyone fooled in the first episode of The Idol, where her character Dyanne appeared to be a friendly and supportive backup dancer to pop star Jocelyn. But in the HBO drama's second episode, Dyanne showed her true colors, and the Jennie stans were living for it. Dyanne's villain twist on The Idol had BLACKPINK fans thrilled to see Jennie in a whole new light.
The drama definitely ramped up in the second episode of The Idol, and the biggest surprise came courtesy of Dyanne. After stealing the spotlight at Jocelyn's music video shoot by not only out-dancing everybody there but also revealing she has a stellar singing voice to record exec Nikki, Dyanne's true ambition started to become clear. And then her dark side was fully revealed in a scene with Tedros. Turns out, Dyanne isn't Jocelyn's fun-loving bestie, she actually only befriended the pop star to weasel into her world and replace her, a plan she concocted with Tedros, whom she's secretly been in cahoots with this whole time.
The shocking revelation stunned viewers, and not only because of the character's 180 degree turn. Mostly, BLINKs were excited to see their idol Jennie eat up a deliciously villainous role for the first time.
After the twist went viral, BLINKs were more than ready to embrace Jennie's dark side. Because really, what's better than a hot, evil supervillain?
The Dyanne reveal also gave fans so much more reason to get excited for future episodes of The Idol. Initially, there were reports that Jennie only had "three or four lines" in the series and that her story arc was "inconsequential." But after Episode 2, it definitely seems like that information was wrong. Not only are BLINKs rooting for Dyanne to sabotage Jocelyn and take her place as the ultimate pop idol, but after Jennie showed off her singing in the latest ep, fans are also hopeful that some new Jennie music will be featured as Dyanne's star rises.
The Idol may have been all about Jocelyn and Tedros at the start, but clearly, it's Dyanne's show now. She's the true world class sinner.